Welcome to see our new Strong Powerful Long Range GMRS Car Radio RA87, it is the  GMRS car radios with a variety of functions.
Let us be familiar with this RA87:
RA87 is a high quality and higher power GMRS car radios,  you can use it on your car and also can be a base station.
Long Range GMRS Car Radio RA87 main functions:
22 GMRS Channels + 8 Repeater Channels
40w/5w 200 memory and Call channels
Build your own repeater station: Two RA87 GMRS Mobile Radios can copy data through the data cable and build a simple repeater
2 units RA87 can be wired copy info by linking together with the data cable
Multiple Scan modes can be selected
Programmable hand microphone function keys
LCD display and adjustable backlight colors
Compose simple repeater station
Dual standby, dual frequency display
DTMF encode and decode function
MSK signaling encode and decode
Same/different/reverse frequency setting
Wideband/Narrowband adjustment
APO (Auto Power Off) protection
Voice companding
260 CTCSS/DCS AIN Identify code
Packaging details: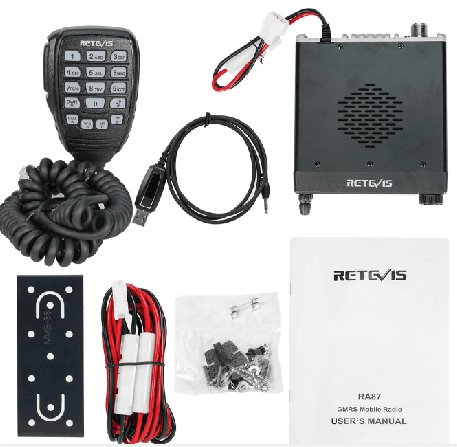 1 x RA87 Radio
1 x Handheld Speaker Mic
1 x Mobile Mounting Bracket
1 x Power Cable with A fuse
1 x Programming Cable
1X Screw Packs 1
x User Manual
Retevis  is the brand specializing in the design and manufacture of two way radios .We have own R&D team to support customized needs. Certainly, our products are approved by FCC, CE and BSCI.  If you are interested, we will be very happy to send you the product list with a quote.
More to read: