According to the testing video of MURS RB17V, some customers think the communication distance is not so far. They want to change a high gain VHF antenna to expand the communication distance. And now, it realized. The new antenna HA06 antenna is suitable for RB17V.
Let's find the reviews from our customers who have tested the RB17V.
The antenna can help the radio work for a long-range, high quality, and clear voice, if you are not satisfied with your MURS radio, you can change to this antenna. And other advantages of the HA06 antenna are easily operating, not affected by the weather and wind, with big buttons and a colorful appearance.
To accommodate more MURS radios, we have SMA-F and SMA-M models. You can check your radios to confirm which one is accommodated your radios.
How to distinguish the SMA-F and SMA-M?
You can find these two interface types, the first one is SMA-F, you cannot find the needle in it, but you can find the needle on the SMA-M interface. So, it is the main difference between them. And the antenna interface on a walkie-talkie is the opposite of the antenna interface, if you can see the needle on your radio interface, you should choose the SMA-F antenna.
Which type can be used on RB17V?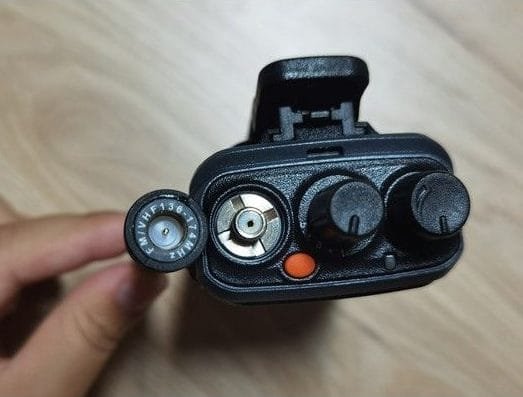 You can look at the photo, the RB17V antenna has no pins. So if you need to replace an antenna, choose the SMA-M antenna.
Follow our social media pages if you'd like to hear the story first hand, or contact support@retevis.com if you'd like to get a good deal.