Retevis now recommend you our new affordable 155/156mhz Ham Radio RA79 for Scandinavian hunter. Let us have a look.
RA79 is an economic ham radio which has the followings highlights: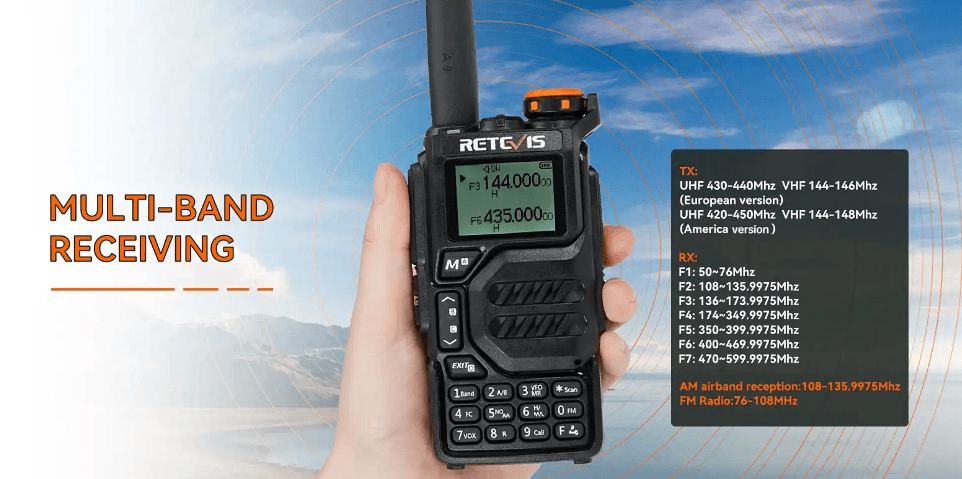 1, 50-600mhz  AM Airband Receiving: 
RX : F1: 50~76Mhz; F2: 108~135.9975Mhz; F3: 136-174Mhz; F4: 174~399.9975Mhz;
F5: 350-399.9975Mhz; F6: 400~469.9975Mhz)F7: 470~599.9975Mhz
VHF air segment reception: AM: 108-135.9975Mhz;
2, Transimitting EU Version: UHF 430-440Mhz; VHF 144-146Mhz; 
which can expand to 136-174mhz, 400-470mhz  with easy operations: 
Press PTT+SK1 to turn on the radio, select F-LOCK and click the M key to confirm.
Then press the up and down keys to select off, which to expand frequency, and follow the same steps.
F-LOCK, select FCC again, which is the American frequency, and CE, which is the European frequency.
So you can use the 155/156mhz to hunt.
2, type C charging:  Easier to charge, and can be charged with a power bank when outdoors.
3, 200 channel :  Give you enough room to keep more channels.
4, 5w: High power to cover long talking range.
5,10 group scrambler: this can make your talk more private.
6, Emergency Alert:   Help people find you when you meet dangerous situations during hunting. 
Unitil this is our most affordable ham radio with multi functions, such as : Reverse Frequency Function, Fast Copy One Channel,Flashlight,FM Radio,Multi-Band Transmitting & Receiving . So it is a very good choice if you are looking for 155/156mhz Ham Radio.
Retevis welcome new resellers and OEM brand partners, to realize win-win cooperation, if you are interested in, please feel free to email to info@retevis.com
More to read: