It couldn't have escaped you to notice the growing popularity of stand up paddleboarding. The cross between windsurfing and kayaking has been growing in popularity in recent years because of its simplicity and affordability with boards being used on lakes, rivers and around our coastline.
With more and more paddle boarders venturing further offshore, safety is now becoming a major issue. Here we talk about the benefits a simple marine VHF radio can provide a paddleboarder.
Why should a Paddleboarder use the marine walkie-talkie ?
First, many paddlers venture some way from the coast. It is highly unlikely that there will be good mobile phone coverage away from the shoreline, particularly at sea level or below cliffs. A marine handheld VHF radio will give you great coverage and with floating function,which making it an essential piece of kit in offshore situations.
Second, marine radios have NOAA weather channels. This is extremely useful for getting the current conditions in your area. You can add weather alerts to your scan too.
Finally, if you encounter a problem, mobile phones can only speak to one person at a time. But you can use the emergency channel (16) of marine radio to call for assistance , all radio users listening within range will hear you!
what radios are available for Paddleboarders?
1/ RM01 Free Floating Marine VHF radio
RM01 is the newest portable and cost-effective marine radio, good for fishing or working on the boat. It features LED-backlit LCD, Dual/Tri-watch Function, Battery Indicato, Weather Channel Receive and Favorite Channel Function
2/RT55 Floating IP67 VHF Marine Radio
RT55 is a marine radio with a longer antenna and big keypad. Hot spots: Water-resistant Protection; Floats on Water; Vibration Water Draining Function; Dual-Watch/Tri-Watch.
3/RA26 Waterproof IP67 VHF Handheld Marine Radio
RA26 is a standard 88-channel maritime walkie-talkie. Main features: IP67 dustproof and waterproof, floating in the water, flashing lights and beeping, horn vibration and drainage function, dual-frequency/tri-frequency on duty, automatic scanning function, long standby.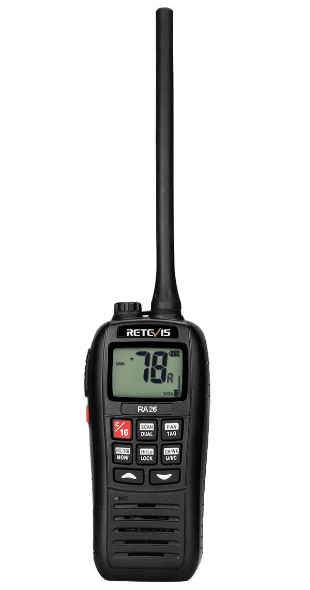 4/RM40 Handheld 2 way VHF Marine Radio
RM40 features Built-in GPS, Built-in DSC, MOB Function, Dual/Tri-watch Functions, Weather Channel Receive and Favorite Channel Function. It is suitable for a little coastal fishing, longer cruising trips and navigating river systems both on smaller boats as well as bigger ones.
If have any questions or suggestion of the marine radios,  please feel free  contact us!