Kayak Fishing is a great option for many anglers. And now kayak fishing is all the rage right now. They allow anglers access to some of the most under-fished and remote water. But kayaks can potentially be dangerous.
Here we have some important kayak fishing safety tips for you.
These tips are from our customers' feedback and online research. If you have more fishing ideas and kayaking information, welcome to share with us.
1, Wear a Personal Flotation Device PDF
Yes, usually we suggest wearing a PFD at all times on the water. In addition to a life jacket, you also need to have moisture-wicking clothes as well as warm clothes on. If you kayak fishing in Winter or cold water, going overboard could mean cold or danger.
Having these gears will save your life or offer your more time to save yourself.
2, Check Weather before you kayak fishing
It's common sense. We all have the habit of checking weather forecasts in advance. In addition to knowing the weather, you also need to know the wind direction, know high tide and low tide information, and know the chance of storms coming in. If you want to get the latest weather information, a walkie-takie with the NOAA function will be a great choice.
3, Practice paddling and other skills.
This is very important. You also need to practice self-rescue. You need to know how to recover in case you capsize or fall out of your kayak. You need to know how to get back in safely and fast. More practice, more safely.
4, Get A Stable & Durable Fishing Kayak
Kayak is very important. You need to choose an accurate durable kayak for your fishing. If you don't know, you can search online to choose a good fishing kayak.
5, Communication with the waterproof feature or waterproof bags
If you use the cellphone as a communication tool, don't forget to put it in waterproof bags. Even if your mobile phone is waterproof, it will really affect your use after entering the water, and sometimes it can directly make your mobile phone scrapped.
Here we suggest you take the walkie talkie, choose the real waterproof walkie-talkies for your kayak fishing.  Retevis RT49P is a good choice. It comes with IP67 full waterproof and dustproof grade, when meets with water,  no need to worry about it.
And It floats. When falling into the water, it will float on the river. And another reason is the price.
Compare with the cellphone, walkie-talkies with the low price.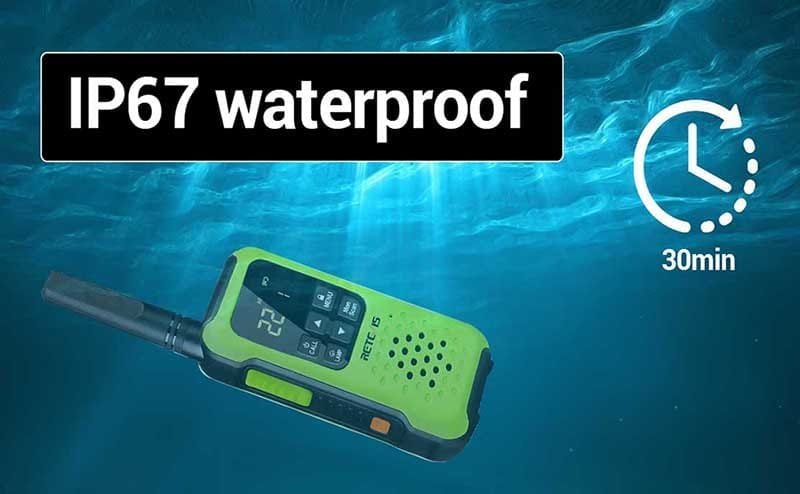 If you have considered the above safety tips, you are ready to get into kayak fishing.