Today we will introduce a new model walkie talkie RT648.
1.Basic Information:
It is the Europe version PMR446 license free business radio, a model corresponding to it is RT48, it is the FRS radio for US.
The net weight is 600g, the size of it is 255*205*60mm.
RT648(RT48) is analog PMR446 two way radio, it have 16 channels, the max power is 0.5w(FRS IS 2W). Maximum call distance can reach 2-4km, It depends on the environment. And RT48 can self programming CTCSS, it support Non-standard CTCSS.
The Program cable for it is the same as HD1, you can check on: https://www.retevis.com/usb-programming-cable-for-ailunce-hd1-dmr-radio
2.Main Features:
State of Indicator light
When Transmitting, red light is on .When receiving ,green light is on.
Voice Prompt Selection
When "Voice Prompt Selection" is off, the transceiver will not give voice prompt. When "Voice Prompt Selection" is Chinese, Chinese voice prompt is activated. When "Voice Prompt Selection" is English, English voice prompt is activated.
Battery Save Mode
Non-standard CTCSS self programming
Non-standard CTCSS can be self programmed by software
Setting up non-standard CTCSS QT signaling on the channel of the radio , it can be from 67.0 CTCSS to 254.1 CTCSS between any set of the QT signaling.
If BCLO function has been set, then if press PTT button when receiving signal, the transmitting is prohibited, and keep beeping until release PTT button.
You can use programmable software to ON/OFF this function.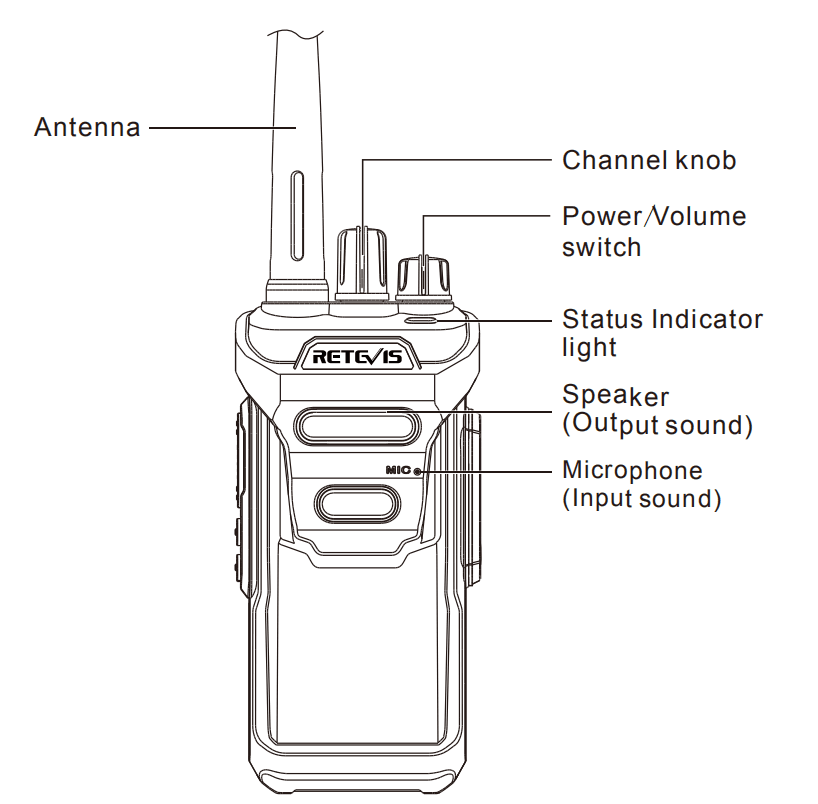 3.Common functions:
If the current channel is empty, the radio will have warmming voice.
Power switch /Volume control
PTT Switch
Side Key Definition
Squelch level
By adjusting squelch level setting up to turn on or turn off when the radio receives a strong signal , The lower of the squelch level setting ,the larger of opening background noise, and the calling range is farther.
Range in 0-9,when on 0 means the squelch is opening, more higher of level, squelch not easy to open
Time-out Timer(TOT)
Scan Switch
Non-standard CTCSS self programming
Battery Save Mode
Battery Voltage Prompt
Wide/Narrow Bandwidth Selection
You can choose Wideband(25KHz) or Narrow band(12.50KHz), The default bandwidth is "Wide"。
 Frequency Read/Write Encryption
CTCSS/DCS