As a dual band DMR radio, RT82 is liked my many hams. One of the reason is, RT82 can store 10,000 contacts. After upgrading the firmware, RT82 contacts can reach 100,000. Do you know how to input RT82 contacts?
A.RT82 contacts 10,000
All RT82 default setting is with 10,000 contact space. Because original RT82 is with "recording" function in radio,this function take some space in radio.
So if your radio is original, no upgrading, so you can only import 10,000 contacts to software, as well as radio.
Import RT82 contacts in below position is ok.
B. RT82 contacts 100,000
If you upgraded the firmware, when upgrading, you have to choose  Vecoder version, then you chose the contacts quantity at the same time. Only you choose the vecorder without recording function, then you can get 100,000 contacts.
Notes about vecoder:
Note:Retvis RT82(REC)-D3.35.bin——–non GPS with record function.
Retvis RT82(GPS-REC)-S3.35.bin-——-GPS with record function.
This firmware has record function, but only can store 10000 contacts.
Retvis RT82(CSV)-V3.35.bin——–non GPS WITHOUT record function, but increase contacts.
Retvis RT82(GPS-CSV)-P3.35.bin—-GPS WITHOUT record function, but increase contacts.
This firmware has no record function, but can store 100000 contacts.
If you like record function, choose the above two vecoders.
If you want to restore more contacts, please choose the bottom two vecoders.
For 10,000 contacts, please import here: Programme-Write contacts-import—Write Finish.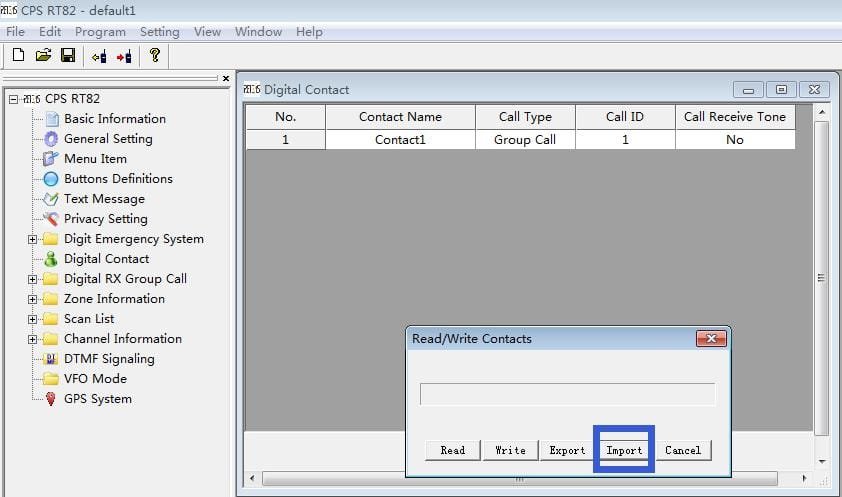 Any other questions for RT82 contacts, please feel free to contact kam@retevis.com. Thanks!