Kayaking is one of the famous activities.  It is not only a fun activity but also an adventure outdoor water sport. It moves through the water in a small boat with the aid of a double-bladed paddle.
No matter go kayaking with friends or family, you also need to be ready for essential equipment for your kayaking.
These are the basic equipment for a kayaking adventure.
1, Kayak
This is very important. You can order a yourself kayak, or you can rent the kayak and paddle. Usually, the seller will introduce different materials and kinds of kayaks for your choice.
2, Life jacket
Some kayaking resorts or seaside resorts will be ready for the kayak and paddles. also with the different sizes of life jackets. This is very important. Every type of water sport has the danger, wearing a life jacket will keep you afloat when falling into the water.
3, Waterproof bag
You can put your important items into it, like the cell phone. This will keep them dry while you do kayaking through the water
4, Walkie talkies
Now there are lots of people choose the walkie-talkies instead of a cell phone. The cell phone is very expensive, and once falling into the water, will damage the phone, and many after-sales services is not free to repair the water mobile phone.
So they will choose waterproof walkie-talkies.
Retevis RT49P is the real waterproof walkie-talkie. With the IP67 waterproof level, you do not need to worry about it when it falls into the water.
Another reason, Retevis RT49P is the floating walkie-talkie. When it falls into the water, it will keep floating on the water. You can get it out of the water easily.
There are two versions of this waterproof floating walkie-talkie. RT49P is the FRS band, suitable for the USA, Canada. And RT649P is the PMR446 band.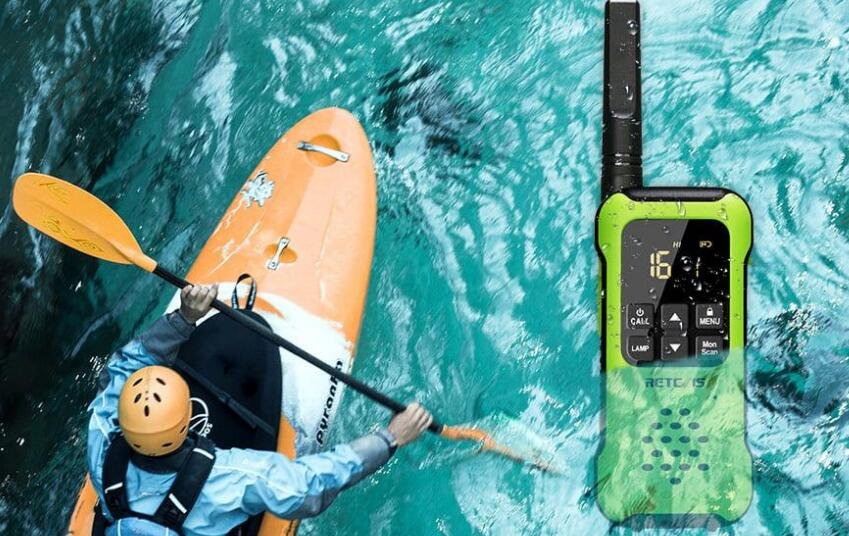 5, Water-resistant shirt and pants
Even the small waves and paddles splash will wet your cloth. So choose the water-resistant shirt and pants that will keep you dry and comfortable throughout your kayaking adventure.
If you go winter kayaking or other extreme kayaking, you may require more equipment to ready. Sometimes, if you go kayaking in a new place, you'd better hire a guide. A local guide for kayaking adventure will direct you towards and increases the security of your kayaking. Staying safe is paramount to any water activity.
Let's go kayaking.
Any questions, please leave a message or email us!