Everyone wants to look for the low-cost GMRS Handheld radio, now Retevis RB87 is coming. But don't worry about its quality. Retevis RB87 comes with high power 5w, without display, 30 GMRS channels that include the GMRS repeater capable. First, let's check what it looks like and be familiar with its buttons and keys.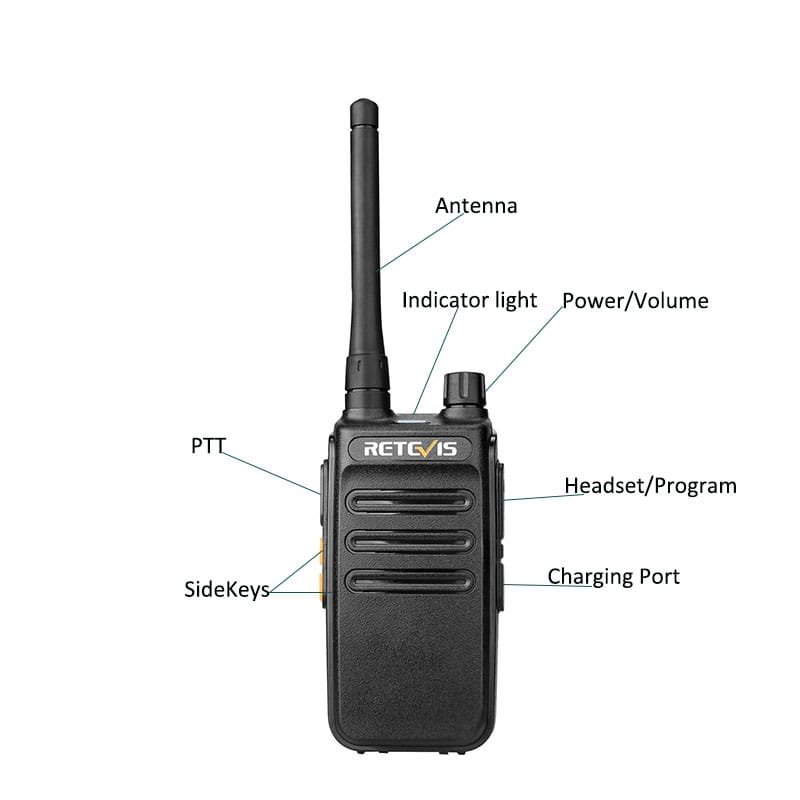 RB87 with a simple design, Using both GMRS and FRS radio frequencies, so can work with Other GMRS/FRS radios easily. No more buttons or keys, it is very easy to use. Usually, our Retevis GMRS radios don't need to program, you can use them out of the package.  Two side keys can help you to define different functions by its software. And headset and programming port can help you easy to connect with the headset/earpieces if you need them.
Tip:  If your GMRS radios can't work with other GMRS/FRS radios, please check the channel information.
So what are the highlights of Retevis RB87?
1, Low-cost GMRS handheld Radio
If you study the GMRS market, you will get lots of GMRS radios with a selling price of around USD50. But there are lots of users who want to change their radios from FRS to GMRS radios and don't want to cost much.
So this GMRS handheld radio RB87 will be a good choice. On retevis.com, the selling price with 40% discount, only USD24.99. This price is similar to the FRS radio price. But you will get the most powerful and long-range walkie-talkie than FRS radio.
2, High-quality GMRS 2-way radio with the GMRS repeater function
Low cost doesn't mean low quality. RB87 is designed with the standard of expensive business radios, so don't worry about its quality. Also, it has the GMRS repeater function. You can connect with your local GMRS repeater easily.
3, High power 5w Handheld GMRS radio
If you are looking for long-range walkie-talkies, choose GMRS instead of FRS radios.
Also, you need to check the output power. Power is also an important factor for communication range. RB87 comes with the 5W high power, it will better perform in range than the GMRS radios with 3Watt in the market.
So if you want to change your FRS radio to GMRS radio, choose RB87, it will help you make better communication no matter in business or outdoor adventure.
Have any questions about GMRS radios or about this Low-Cost GMRS handheld Radio RB87? Leave messages or contact us by email: partner@retevis.com