According to our research on the usage range and users of GMRS devices, we found that more and more users like to use GMRS devices to help them work, mainly on the West Coast, East Coast, and some central regions of the United States. However, GMRS equipment has strong limitations, so if you want to build a communication network with large coverage, good call range, and call performance, how to choose GMRS devices combination?
Why GMRS devises?
With higher power and channels than FRS devices, GMRS is more practical for companies and teams.
GMRS is a licensed radio and requires an application. Therefore, the number of users is relatively small, and busy channels are reduced.
It can be connected to the repeater, which is an essential tool for users who need long-distance communication. The last 8 channels of the 30 channels of the GMRS radios are repeater channels, which can be easily connected to the repeater.
Compared to amateur walkie-talkies, GMRS radios and devices are cheaper and easy to operate, making them suitable for commercial use.
What is the new GMRS devices combination?
After investigation, we found that although there are many users of GMRS devices, for companies or organizations, it takes a lot of choices and research to piece together solutions that can solve problems, but many problems often occur. Based on customer feedback, our R&D center and market research personnel have tested the combination of GMRS devices, with good effect and meeting the call effect and call distance at the same time, from our products and selected several alternatives according to the analysis of application scenarios and existing products.
Like: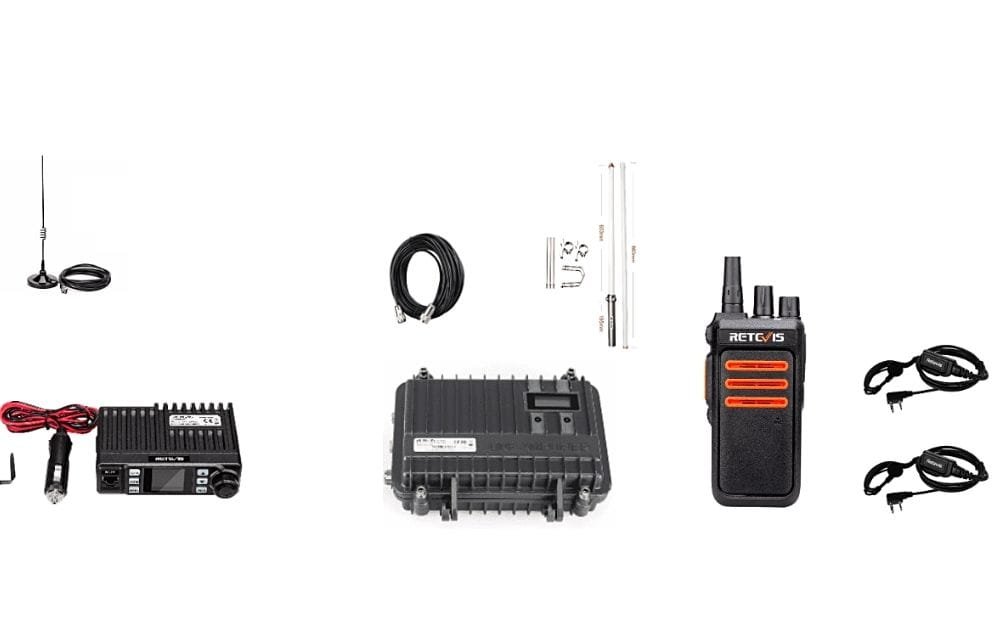 Including repeater, mobile radio, antenna, handheld radios, and accessories.
The RA25 is a mini device with big buttons that can be easily mounted on the car.
The power of the repeater RT97 is 10W. Through the test, it has a good connection effect with RB27, RB75, and other radios. And we expect to add a new 40W GMRS relay.
Hand-held radios are the most widely applicable and common devices. We tested RB27, RT76, RA17, RB75, RB26, and RT76 respectively. They have a power range of 3-5W. RB75 radio has a waterproof function.
Applicable Scene
We think this combination is more suitable for agriculture. Many large and medium-sized farms have unreliable cell phone signals, and workers need to communicate frequently throughout the day, so the radio is better suited to farming than mobile phones. And the use of agricultural machinery in agriculture, the car can be easily installed on the agricultural machinery. Repeaters can be installed in barns, farmhouses, or rest areas on medium and large farms to ensure continuous communication.