Recently, we have a Polish customer who came to ask us which type of walkie-talkie we use for the indoor workplace has clearer calls. He was recommended by a friend that the digital radio has clearer call quality. So the customer wants to compare the difference between the digital radio and other PMR walkie-talkies. Amazing call quality in building, RT40 and RT10 for EU and US.
In fact, this statement is not accurate. The encoding and decoding methods of two-way radios can be divided into digital and analog, but PMR, FRS, and FreeNet are exempt frequency bands in various countries,  and they have fixed frequency points and power requirements. So you can choose the corresponding radio version according to your needs.
RT40 for EU
For our Polish customers, most of their work is carried out indoors, mainly indoor activities. Their engineers will use high-definition intercoms to communicate, and they need a license-free intercom. Therefore, RT40 is a good choice.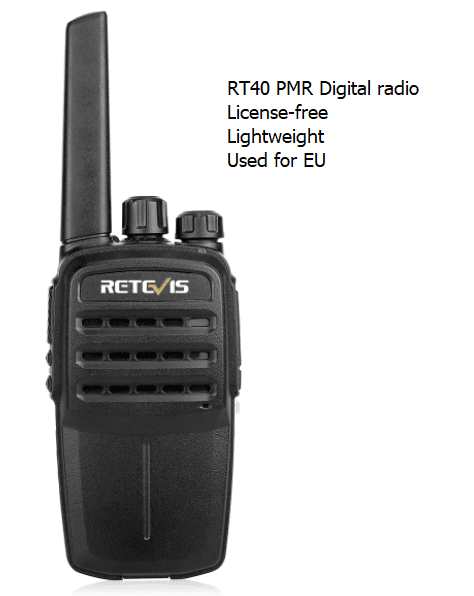 RT10 for the US
But because it is a PMR frequency radio, it is not compliant to use it in the United States, so if you are in the United States, you need a digital radio with a license-free frequency band, RT10 is here.
The digital radio uses digital coding technology. And the sound data is encoded into a digital code through logic and algorithm for transmission. When receiving in the transmission range, the receiving radio will restore the digital code to the sound signal. Through the same logic and algorithm. Even if there is a loss caused by interference, will also use the same algorithms to supplement the sound signal during the decoding process. This is why digital radios have clearer calls than analog radio. If you want to order for your organization or company, please email us to get a bulky price. support@retevis.com
More information about RT40 and RT10, you can find on these blogs:
THE FIRST LICENSE-FREE DMR RADIO RT40