For Increase Your Two Way Radio's Power – Retevis RT91 Amplifier
1.Why do you need to Increase Your Two Way Radio's Power?
If you are out in the field with radios such as RT21, RT50, RT3s or any other handheld radio,
The output usually is 2watt, 5watt, and sometime even 10 watt, It is more than adequate for the purpose that they are being use for.
You may come across a time where you do need that boost in power, if you've got a decent antenna and conditions, right then the additional bit power can't help
massively, sometimes the the 5 watts that these radios pack or some of the other radios that you can get pack just may not cut it for the desired purpose, maybe at this time, you will need a power amplifier such as Retevis RT91.

RT91 is a basically a handheld radio power amplifier, and it has 40 Watt Output.
① Portable and Lightweight:
It's quite portable and lightweight, it is pretty small compared to some of the main radios that you can use.
It does have quite a high output power, up to 40 watts, so when you compare that to the 5 6 8 or 10 watt handles the around on the market, it's definitely packs a
bit of a punch.
The size of RT91 is quite small, it's not a big unit at all as compared to the microphone. The size of RT91 is just 139x115x36mm, and the weight of it is 700g.
It is the perfect companion for field operation without adding a lot of weight.

② Support Digital and analog radio:
It's basically a wide coverage RF power amplifier for handheld radio equipment for both digital and analog.
It's have two mode digital and analog version, You can choose the version according to your radios.
If your radio is DMR radio, you can choose digital mode; If your radio is analog, you need choose analog version.
Besides, you also need to confirm the frequency range of your radio, you can choose RT91 VHF and UHF frequency range individual as your radio. RT91 will also work
with any handheld radio that outputs 2W–6W.
③Safety:
There are some safety precautions on RT91, it does include voltage spike suppression, temperature protection RF sensing. It also have an automatic power control
and of course harmonic filters as well.
Harmonic filters on the input allow the amplifier to transmit a cleaner output signal. It will transmits a cleaner, purer signal from your handheld radio.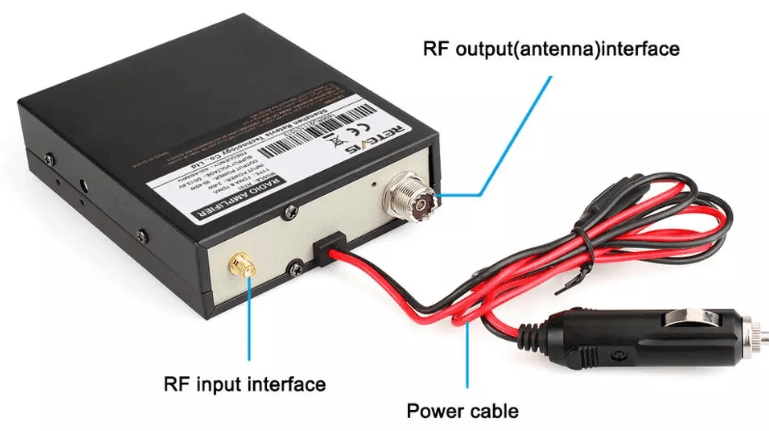 ④Large built-in speaker:
It does have a large built-in speaker(4W) and microphone socket.
Its has own Individual microphone rather than the radios, and there's a status indicator on there so
that lets you know the working status of the device itself.
When you connect your handheld radio with the radio control cable, the amplifier will use it's own loud 4W built-in speaker to broadcast the incoming audio.

⑤Supported Amplification Modes:
This Amplifier RT91 operates from 136-174 MHz or 400-480 MHZ, can be used for analog FM, P25 Phase 1, C4FM (System Fusion), NXDN, IDAS, dPMR, and MPT1327
modes.