Use the GMRS two way radio RB27, will help you to contact wth your friends and family members. Retevis RB27 is the 30 channels GMRS two way radio, has lots of functions like scan, monitor, change ctcss/dcs, weather channel and so on. So how to use your RB27? And how to active these functions?
Here we will talk about the GMRS first.
GMRS, as the FCC rule, you need to get a license from FCC. Then you and your family members can transmit on GMRS band and GMRS repeater channels. Also when you get the GMRS license, you can transmit on the radios up to 50 watt.
Also, the GMRS license is very easy to get. Not like the ham radio license, you don't need to make an exam to get it. So if you want to choose the long-range radios, you can consider this model. GMRS band two way radios.
Another. Lots of GMRS radios have the repeater functions. You don't need to program it, just choose the repeater channel, then you can connect with your own or your local GMRS repeater.
GMRS Two-Way Radio RB27
Retevis RB27 is the GMRS band handheld two way radio. here I will talk about how to use it.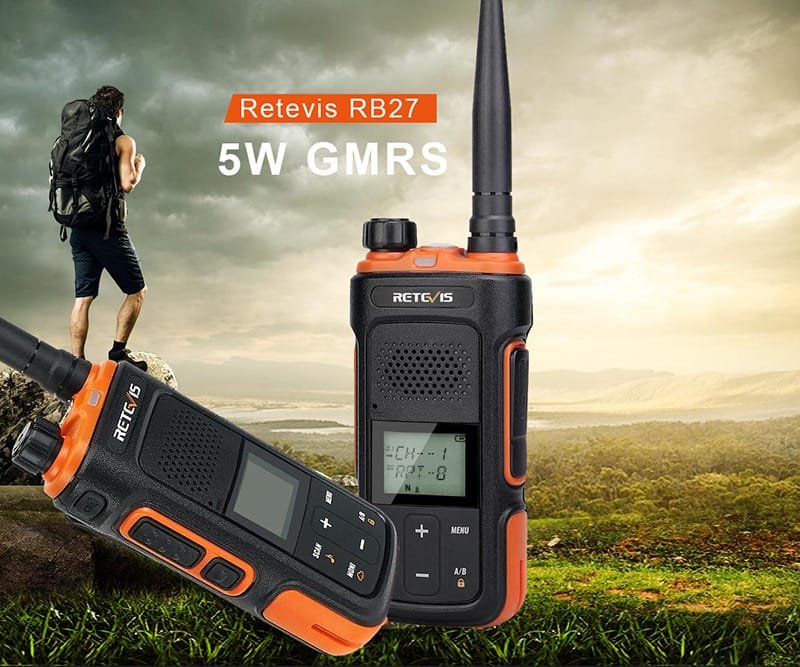 1, Change CTCSS/DCS codes.
Because RB27 is the GMRS band two way radio, so  you can not change the channel frequencies. But you can change the CTCSS/DCS codes to make your communcate private.
Press the menu button, it will enter into RX code/TX code, then press menu again, then press + or – button to change.
2, Beep
Beep tone is the keypad beep.
3, VOX
VOX will make your hands-free, no need to press the PTT button, you can talk with others. There are 5 level.
4, Dual Watch Function
RB27 is the dual standby two way radio, can monitor A and B band at the same time.
5, Power save
Turn on this function, it will help you to save power when there is no signal.
6, Time out time
The TOT function is used to prevent a long transmit. When you set the value, it will has a time limit transmit.
7, Flashlight
Sidekey has the button for flashlight. Press it,  the flashlight will active. Press twice, the flashlight will flash. Press 3 times, close.
8, Reset
This function will help you to reset your radio to factory setting.
9, Repeater channels
Retevis RB27 is the 30 channels GMRS Two-way radio, the last 8 channels are repeater function. So just change the channel number to 23`channel 30.
10, NOAA weather Channels.
RB27 has 11 NOAA Weather Channels, just press the button monitor, it will enter into the weather channel select. Press + or – to choose.
11. FM function
Press the sidekey button( below PTT), FM function will active. Press+ or – radio will seek the FM signal automatically.
12, Scan function
Press the scan button for 2 seconds, it will scan. Retevis RB27 can scan all 30 channels, and will stop on any active channel.
Above are the functions for GMRS radio RB27. If you have any questions, please contact us: partner@retevis.com
Where to order?
It is very easy to order from our website, click Buy It Now