How to set up the MMSI on your RM40
Retevis RM40 marine band radio is a professional radio.Its mainly functions are GPS, MOB, DSC etc. And they can provide shipments and crews great help and convenience. RM40 coast guard radio is suitable for Ocean voyage or professional workers. For example, freighter, cruise ship, maritime police etc.
Feedback from a customer who purchased RA27 and RM40: "do you have instructions on how to use the programming sw to change the MMSI NR.? Please supply instructions on how to use the software and change the MMSI" Do you have the same question? This blog mainly introduces how to set up the RM40 MMSI.
1/Preparation before setting in the software:
1. RM40 GPS DSC VHF Marine Radio.
2.A programming cable
3.RM40 programming software.
You can open the website , choose the Country first, search the radio model, and then click the support, you will find the corresponding software, USB driver and firmware:
https://www.retevis.com/rm40-handheld-2-way-vhf-marine-radio

2/How to set up the MMSI in the software?
1.Install the USB driver and RM40 software.
2.Connect the RM40 radio and computer using a programming cable.
3.Open the RM40 software, select the COM port, turn on the radio, and  then select read from the radio

4. Click DCS and select "COMMON" and fill in your MMSI code in the position shown in the following picture.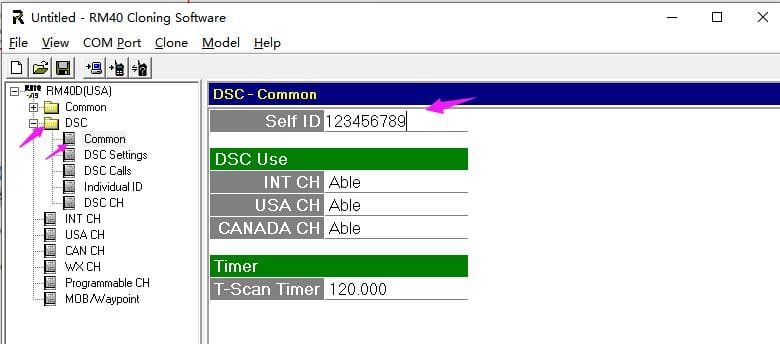 5.When the settings are completed, you need to write to the intercom again. After successful writing, if the intercom buttons cannot be used and the screen displays clone, just turn off and on again.
If you have any questions or interests in RM40 GPS DSC VHF Marine Radio,  please feel free contact info@retevis.com,thanks.
More to read: RA27 how to set up MMSI?