How to program your DMR radio RT43?
For the beginners, it is difficult for them to program the DMR radio. In the beginning, Lots of radio amateurs use the DMR radio, but now lots of businessmen have high requires for communication solutions. So they choose the DMR radio.
Retevis RT43, the new digital and analog mode DMR radio. With no display, no keypad, very fit to use it for business.
So before using it, you need to program it. You need to have:
1, RT43 radios
2, Programming cable for RT43:
3, Programing software for RT43
Before programming, please make sure you have install the software and make sure the RT43 with the power.
1, Use the programming cable to connect the radio and computer.
2, Open the RT43 software and turn on your radio.
3,
Check the port:
choose the right port. Device-Port
If you don't know how to choose, when you connect the radio with the computer, you can check your device manager on your computer.
If you don't install the Driver, please download it from our website to install the driver.
4, Program details
A, RT43 setting: Choose basic setting-setting
You can set your Radio Id, the language, the voice, battery save mode and others below the picture:
B, RT43 side key setting
Retevis has two side keys, up the PTT button and down the PTT button.
You can set the long press or short press as below. These settings like monitor, high/low power, repeater, zone selection can be set for the side key.
C, Zones, there are two zones, each zone has 16 channels, you can program your channel information here.
Tx frequency and Rx frequency, channel type,  Dec QT/DQT(analog mode only) , Enc QT/DQT(analog mode only), Tx power.
For more setting of the channel, you can click the more >>.
D, Channel detail information:
If analog mode: Only need to set the Rx frequency and Tx frequency, Dec QT/DQT and Enc QT/DQT.
For digital mode: you need to set the TX and RX frequency, color code, DMR mode, slot, group list, contacts. and if you want to use the encryption, you can choose it.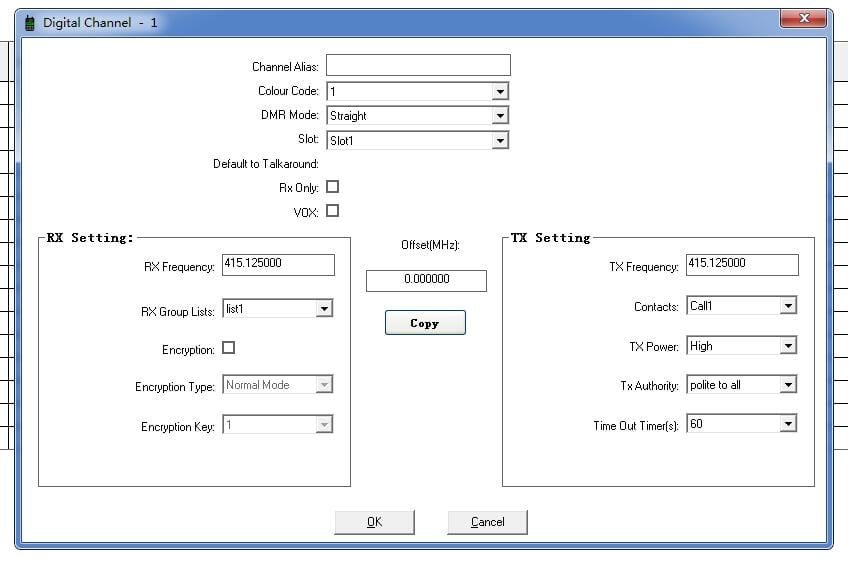 E, Contacts:
Retevis RT43 can add 64 contacts list, for this contacts, you can choose the call type: group call, all call or private call.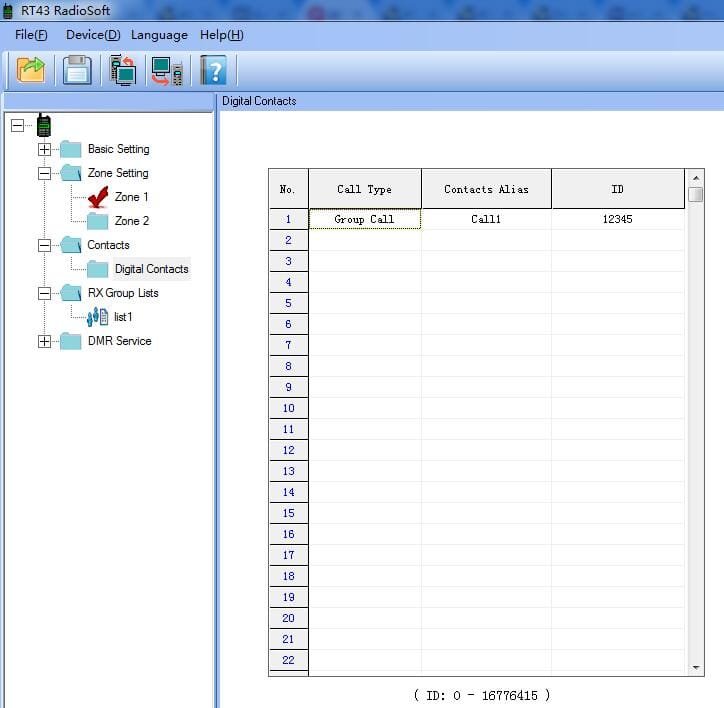 F, Rx group list of RT43
G, The DMR function encryption
For two modes: Normal encryption and Enhanced Encryption.
It is very easy to program the dmr radio RT43, if you still don't know how to program your DMR RT43, you can email us or leave message below!