The first thing is where can I download the Chirp software?
The link is https://chirp.danplanet.com/projects/chirp/wiki/Download
What is the latest version of Chirp software?
Follow the 20220219 version, it is the latest software that can be downloaded.
What is the difference between the latest version and the last version?
You can program the RB17P radio on the latest Chirp, but not on the last one.
You said the RT95 radio can program on Chirp, but I cannot choose it on the list. What should I do?
That means you lost a file on your computer. You can download the file on the link https://pypi.org/project/future/
Which radio can be programed on Chirp?
H777
H777 (FRS) (use Retevis H777 Plus)
H777 Plus
RB17/RB17A/RB17V

RB17P

RB18
RB26
RB27/RB27B/RB27V
RB617
RB618
RB627B
RB75
RB85
RT1
RT5 with 2 power levels (use Baofeng UV-5R)
RT5 with 3 power levels (variant of Baofeng BF-F8HP)
RT5R, RT5RV (Variants of Baofeng UV-5R)
RT6
RT16
RT21
RT22
RT22 (FRS)
RT22S
RT23
RT24
RT26
RT622
RT68
RT668
RT76
RT76P
RT85
RT87
RT95 (Variant of Anytone AT-778UV)
RT95 VOX (Variant of Anytone AT-778UV with VOX)
RT98 (VHF, UHF, FreeNet and PMR models)
RT9000D_136-174/220-260/400-490/66-88
RT-B6 (use Baofeng UV-B5)
What does Chirp look like?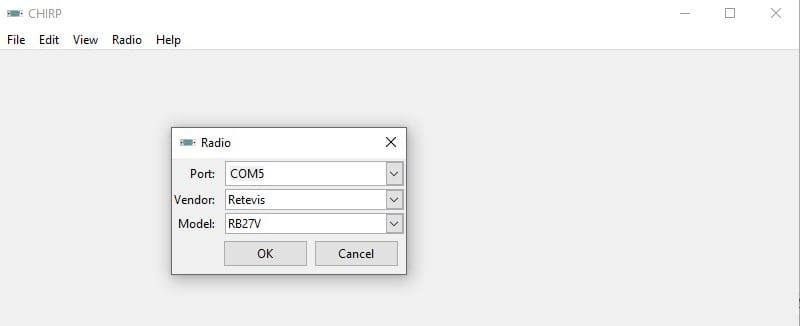 You should choose the right port and model from the radio list. And connect your radio to your computer, Windows, Mac, or Linux are all supported. And then, you can program your radio as normal.
And this the programming page of RT85:

Please do not forget to write the data to your radio when you have done the programming.
And please follow our Facebook for more quick information about Chirp and software updates.