How to pair RB89 with Bluetooth headset
In recent years, the walkie-talkie industry has further integrated emerging high-tech technologies, and the emergence of Bluetooth walkie-talkies is a major breakthrough. The use of walkie-talkies with Bluetooth headsets can not only free the hands of callers, but also play a role in concealed calls, meeting the needs of users in specific industries
RB89 is one of the Retevis Bluetooth walkie-talkie, so do you know how to pair RB89 with a Bluetooth headset?
First, let's take a look at the appearance of the RB89 walkie-talkie and Bluetooth headset: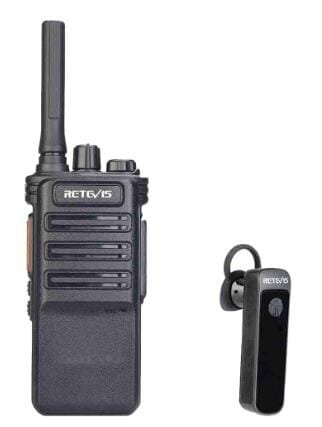 Then please follow the steps below to pair:
1/RB89 walkie talkie long press PTT+PF2 to turn On, Bluetooth icon flashes, the walkie-talkie is on Bluetooth pairing mode.
2/Long press the Bluetooth headset for 5 seconds, the red and blue lights will flash alternately to put it into pairing mode.
3/Bluetooth icon of the Walkie Talkie stops flashing and the green icon is always ON to indicate successful pairing.
4/Long press the earpiece for five seconds to turn off.
More to read:HOW TO PROGRAMME RB89 GMRS BLUETOOTH RADIO
Retevis welcome new resellers and OEM brand partners, to realize win-win cooperation, if you are interested in, please feel free to email to laura@retevis.com