Connect bluetooth headphones to Radio RA19 is very easy. First I will introduce this RA19 for you. Retevis RA19 and RA619 is the new model from retevis. These two models are all the license-free radio, one is FRS band and another is PMR446 band. The important feature of this Radio RA19 is bluetooth.
Retevis RA19/RA619 is the built-in bluetooth license-free radio. You can connect the radio with your own bluetooth headphone, or you can connect with its bluetooth headset. First Let's check the radio RA19.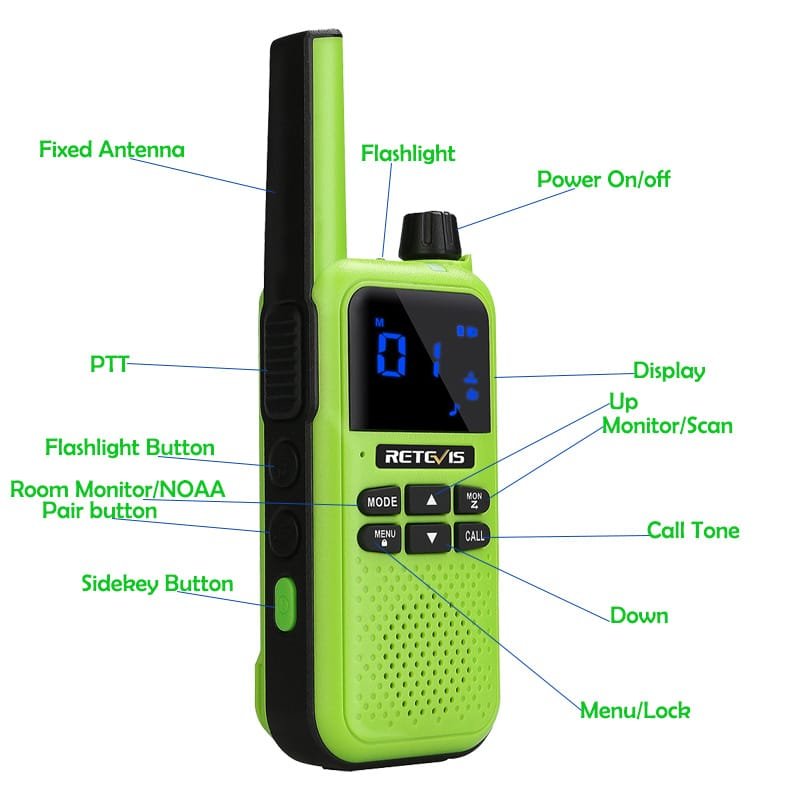 It has 6 keys in the front, and with the big lcd display, help you to check the radio easily. Comes with the grass green color, make it suitable for family and team to use for outdoor activities.
As I just said, it is the built-in bluetooth license-free radio, if you don't have the bluetooth headset, no worry please. RA19 standard package comes with the bluetooth headset.
How to connect the bluetooth headset/headphone to Radio RA19?
1, Turn On the Bluetooth headset
Press the power on/off on the bluetooth headset. It will flash blue and red light
2, Turn on your RA19 license-free Radio.
Switch the power on/off button on the RA19 License-free radio
3, Long Press the pair button.
The display will show the bluetooth icon. When the radio's indicator light only falsh blue, it means connected. Also the bluetooth headset will remind you about this.
Paired! Then you can press the talk button on the bluetooth to talk with others. Very easy. Have you got it? If you are looking for the bluetooth license-free radio, you can consider this model RA19 and RA619. If you want to get the radio with black color, We also have another built-in bluetooth license-free radio RB37,  you can check here: RB37
If you have any questions, please leave message or contact us by email: partner@retevis.com