How to choose waterproof radio, firstly you need to know what's waterproof radio and where you will use your radios, then what's the purpose of our waterproof radios. After only know these you can choose a suitable waterproof radio
What's waterproof radio
Waterproof is the difference from Water-resistant. Waterproof is the radio take out from water which doesn't affect work normally, in this process, the water may enter into radio. the Water-resistant is the radio with special material to stop the water into radio, the water may is impossible to enter into radio. Normally the waterproof radio with waterproof level, like IP54 and IP67, If one radio really do waterproof, the waterproof level should be IP67 or higher
When your radio falls into the water to cause radio can't work well briefly, at this time, how do you do, there's an article for your reference:
https://www.twowayradiocommunity.com/how-to-recover-waterproof-walkie-talkie/
The next you should clear where you need a waterproof radio
If you are shopping for radio you will take hunting in the woods in occasional rain, you probably do not need the same level of waterproofing you would if you were going to take your radio with you on a sailboat. The waterproof radio often used for outdoor especially harsh weather conditions, like heavier rainfall and rainstorm
Finally, you need to know what's the purpose of waterproof radios when you use it
You also should ask yourself what you will be using your radio for. Is it to stay connected during an emergency in a region which receives a lot of flooding? Is it for sailing or kayaking or other recreational purposes? Your purpose will help inform the features you need to shop for.
By the three points above you should know how to choose waterproof radio. Recommended three Retevis radios for your option:
RT29: https://www.retevis.com/rt29-long-range-handheld-transceiver-uhf
High power IP67 waterproof radio for long-range communication, mostly the price is the best economic on all of the high power radio
If you would like to choose a cheap high power radio, RT29 is the best option
RT81: https://www.retevis.com/rt81-dmr-digital-analog-uhf-10w-ip67-radio
DMR IP67 waterproof radio which is compatible with digital and analog mode, if you need a DMR radio with waterproof feature, recommended RT81 
RT50: https://www.retevis.com/rt50-ip67-dmr-digital-dual-time-uhf-radio
Digital tube character function DMR IP67 waterproof radio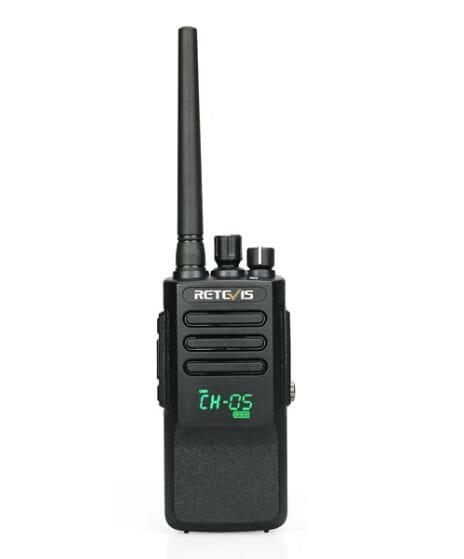 If you still have doubt, please contact us by email, vip@retevis.com, we're always here for you