What's theTR10 Repeater Controller?
In some specific cases, if we need a farther distance,we have to use some tools like Repeater Controller(加C9063A 超链接) to increase the range of the walkie-talkie so that it's more convenient for our happy communication.But how much do you know about the TR10 Repeater Controller?How long it will extend the range of the radios?
The TR10 is a small relay system.Connect walkie-talkie with Repeater Controller as a mini repeater, which can be used to increase the distance of communication.That is to say, with the repeater, your radio will have the further range.

How do connect H-777with TR10 Repeater Controller?
Let's show you how to use the Retevis TR10 Simplex Repeater Controller now:
1.We have three pack walkie talkies and one Retevis TR10. Here we use Retevis H-777 to do as a demo,
2.Connect the TR10 repeater and power it on.
3Connect Retvis H-777 and the repeater. Make sure the cable plug in correctly.
4.Turn on the walkie talkies, switch them to the same channel
5Now test the communication function of the repeater(TR10)
Check LED indicates, Red for transmitting and blue for receiving, if there are red and blue light flash, it means the repeater controller working.
6.Set up the frequency of your radios and H-777(which connect with repeater) through programming
A/B Radio TX=H-777 RX
A/B Radio T-CTCSS=H-777 R-CTCSS
A/B Radio RX=H-777 TX
A/B Radio R-CTCSS=H-777 T-CTCSS
7.Then after you set up well , you can connect A with B to enlarge the range.
That is all step to connect H-777 with TR10 Repeater Controller.Are you get it?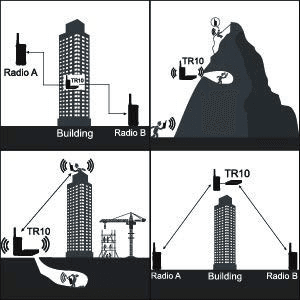 Benefits of using a Repeater Controller
The Repeater Controller is similar to the repeater, It records incoming transmissions and re-transmits them on the same frequency.This has the effect of doubling the time required to transmit a message.Generally, the higher power, the longer range it can extend.but in many cases we will choose the lightweight repeater controller for cost saving and easy for packing and using.It according to the power of your walkie talkies. A traditional repeater typically costs thousands of dollars and might be semi-portable at best,the Retevis TR10 can be set up with a single handheld radio and operated from batteries.