RETEVIS NEWS updates in 2018: The product department of SHENZHEN RETEVIS TECHNOLOGY CO.,LTD, had a meaningful Family Weekend Team building on 1st and 2nd September.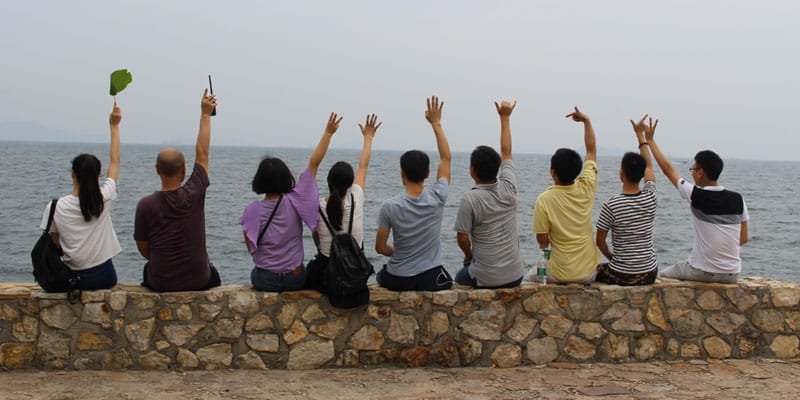 Barbecue:
Since we sit in front of our PCs every day, there are too much radiation in the office. Come to the beach and enjoy the fresh air! When looking at the blue sky and white cloud in the seaside, we talked with each other with fun, even if those colleagues next department who have been having trouble for a long time. Nothing is really a big deal before delicious foods in the Barbecue
Camping:
Setting up a tent is a required course for outdoor camping, and it could become fun, too. It couldn't only prevent wind, cold and animals, but provide us with a relatively private space in the open. Most importantly, we came to an unforgettable private gathering in the tent, and found unknown merits of different team members who get along with each other all the time.
Hiking:
There is a Chinese saying,"The early birds catch worms". Some early birds saw the beautiful sunrise, However, others was still in sleep after got drunk yesterday.  Till all of us gathered up at 7am, we started a 10km hiking trip. We breathe the fresh air in the morning and enjoy the boundless scenery along the way.
Hiking can not only relieve the stress, improve the ability to resist pressure, so as to stimulate potential and improve work efficiency. Besides, hiking enables us to return to the nature, find ourselves, make new friends, increase our pleasant attitude, and overcome difficulties in hiking and experience success.
"Joy, Growth, Value and Happiness" is always RETEVIS's belief.  Wanna learn more about our products? Click Retevis brochure or  Ham radio brochure to know more about us!