Digital Handheld Two-way Radio Retevis RB25, it is the high power two way radio, the new model. Unique design and large aperture lighting, the best choice to help your business. It is not the DMR radio, but the NBDR digital handheld radios.
What is the NBDR radios?
It is the narrow band digital radio. Because it is not the DMR radio, so it can not communicate with other DMR radio, but can communicate with other radios in analog mode. If you want to use the digital mode of this digital handheld two-way radio RB25, you should order more than 2pcs.
The features of Retevis RB25
1, High power, with the high power, make the communicate range longer. So if you want to order the long-range walkie talkies, you can consider this model.
2, Durable Rugged Shell: Design with the hard case outside, mmake it durable for outdoor or business communication like construction site security work, survival rescue and etc.
3, Super Flashlight:Built-in Flashlight, make your outdoor trip more safer. Especially when you go deep into the mountains or for dark outdoor adventure. Also if you use it for business, it will help you to work in dark.
4, Group Call/Private Call/All Call: As the other digital mode radios, RB25 also has these function. Make it easier to make group call or private call.
5, Color code: You can choose the Color code from 1 to 15.
6, Other functions like Monitor, Scan, Encryption for digital mode. Connect with the repeater function and so on.
Let's Have a look of Retevis RB25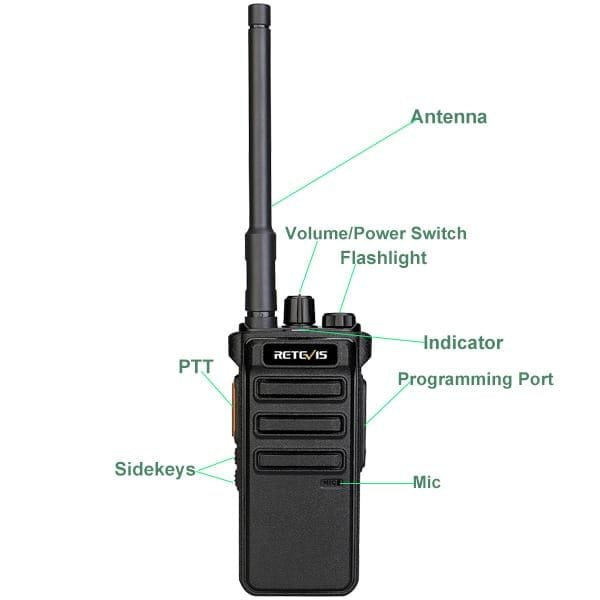 Retevis RB25, the black color digital handheld two-way radio, with 32 channels, two sidekey buttons can be defined by its software. Super flashlight function. Will be the best sellers in 2021.
Any questions about this Retevis RB25, please feel free to leave message below or contact us by email: partner@retevis.com