The different of Retevis RT21 and RT7
RT21 and RT7 all is the simple, easy to operate, functions streamlined commercial use of walkie-talkie.
Let's we check the RT21 and RT7 Features:
RT21
1.Professional analog two way radio, it has better quality & hand feeling and more powerful functions than H777.
2. One meter free fall, two way radio housing without damage, the two way radio can continue to work(The bottom of the intercom down, can not turn the knob down).
3. Frosted and painted appearance,comfortable feel, rugged enclosure , wear resistance, not easy to scratch
4. scramber function to make your conversation more confidential.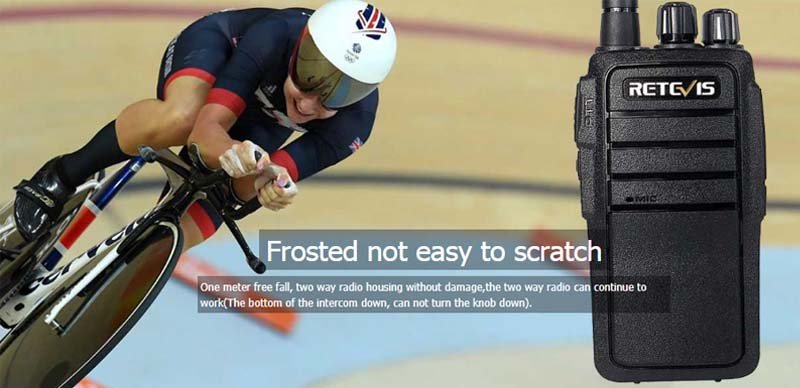 RT7:
1. FM Radio(Press the monitor key to open the machine, FM radio opened)
2. Bright Flashlight function
3. Ergonomic design, Relatively thin body
Now let's we check the comparison:
Model
RT21
RT7
Technological regimes
Analog
Analog
Frequency range
400-480MHz
400-470MHz
Memory Channel
16 Channels
16 Channels
Max power
2.5Watts
3Watts
Supply voltage
Li-ion 3.7V/1300mAH
Li-ion 3.7V/1000mAH
Dimension(Exclude antenna)
4.76×2.44×1.22inch( 12.1×6.2×3.1cm Not include antenna)
122x55x28mm(Not Including Antenna)
Net weight
7.16oz(203g)
171g(6.03oz)(Include Battery)
Funcation "VOX"
YES
YES
Monitor
YES
YES
Scanning
YES
YES
CTCSS/DCS
YES
50 group CTCSS/105 group DCS
TOT
YES
YES
BCL
YES
YES
Emergency alarm/

Channel Spacing

YES
YES
Frequencies step
12.5k, 25k
12.5k, 25k
User-defined side butttons
P1
P1/P2
Squelch Level
YES
YES
Power saving
YES
YES
Voice Prompt
YES
YES
Battery low alert
YES
YES
Flashlight
YES
FM radio
YES
PC Programming
YES
YES
Antenna
Antenna Impedance:50Ω
Antenna Impedance:50 ohm
Accessory Connector
Ear 3.5mm + Mic 2.5mm(Space of two-pin:11mm)
Ear 3.5mm + Mic 2.5mm(Space of two-pin:11mm)
Other parameters
Antenna:SMA-F/K
From this Form, we can check:
1. RT21 Frequency range is more a little than RT7, but RT21 can use at Australia(From 476 Mhz), RT7 can't.
2. RT21 battery capacity is bigger than RT7, so RT21 standby time is longer.
3. RT21 shell is strong than RT7.
4. RT21 with small Antenna, that is not easy to break off.
5. RT7 have the Flashlight and FM radio function, but RT21 don't have.
Which one you more like? Any inquiry u can contact me by vip@retevis.com. Welcome, Thanks