Choose the Right Radio for Family Sking. Go skiing with family is very excited and have lots of fun. But usually should need to keep in touch by mobile phone, but not all the family members own the phone. How to solve this question?
Please don't worry! Retevis has lots of license-free and licensed radios for family skiing. And if you and your family don't use them frequently, and don't have the license.
We recommend this waterproof and float license-free radio RT49P.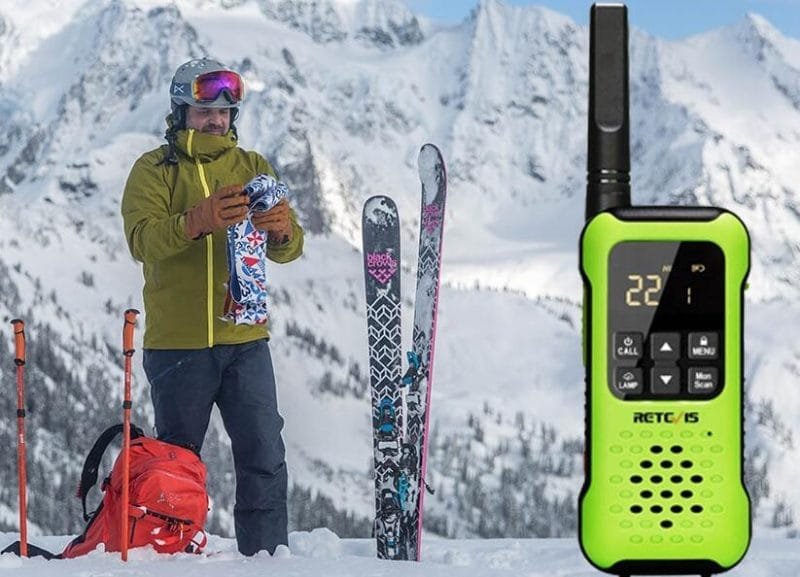 Retevis RT49P and RT649P, the FRS band and PMR446 band License-free radio. If you come from US and Canana, please choose FRS band, and if you come from EU countries, choose PMR446 band. Still don't know which version to choose? Email us: partner@retevis.com
Why RT49P the right radios for family skiing?
1, License-free and Simple to operate.
No need to program, you and your family can use it out of box. Simple to operate, press the menu to choose the same channel number, then two radios can talk and listen.
2, Waterproof IP67
When go skiing, usually you will fall into the snow, and the radios will drop into the snow. Choose the Waterproof radio will be a better choice, no harmful to your radio. If you choose the radio without waterproof feature, when water or snow into the radio, will broken.
3, Green Color
This color is very striking. If you miss it in the ski resort, you can find it easy.
4, Floats
It will float on the river, so this radio not only can be used for skiing, but also can be used for all the outdoor activities, like hiking, fishing, and so on.
5, Flashlight and SOS red alarm.
Retevis RT49P built in the flashlight, when you press the button, it can bright your way.
6, Rechargerable and replacement battery
Retevis RT49P uses the 3 PCS AA batteries, you can charge them before go sking, also you can also bring some replaceable batteries for use.
No matter call for help or find your family members, Retevis RT49P will help you. Start you next skiing adventure with Retevis RT49P.
Any question or suggestions, please email us. For order or bulk orders, email here: partner@retevis.com