Long standby handheld radio RB75, with the GMRS frequencies, and has the GMRS repeater function. Will be your best choice for business or outdoor activities.
If you are looking for the long standby, consider this model RB75. If you are looking for a better communication tool for your business, consider this model RB75.
Long standby Handheld Radio RB75 for business
Now lots of business choose the walkie-talkies as the communication tool like hotel, golf course, security and etc.
Walkie-Talkies will save money for them, there is no need to pay for the monthly fee, no need to check if there has the mobile phone signal. And when you want to talk with others, just press the PTT button.
Also they choose the headset for their radios. Put the radios On his belt, and plug the earpieces. It will be easy to talk with others by earpiece.
For business, the first thing we need to consider is the battery. We don't want to charge our radios so often. So choose the long standby radio will be a good choice. It supports you the whole day working, you can charge them at night.
Retevis RB75 with the powerful battery, 4500mah. Easy to support your whole day working.
Waterproof Handheld Radio RB75 For your outdoor activities
Rainy day For Outdoor activities, like hiking, camping, climbing will affect us. We don't want to use the cellphone because of the rainy day. Some mobile phones with the waterproof feature, but don't meet the real IP67 waterproof features. So if your mobile radio with the water into it, it will harmful.
So lots of people choose the radios. Here we suggest you choose the real IP67 waterproof walkie talkie. Retevis RB75 is the IP67 handheld radio. No matter you are out for hiking or camping, or for business, it works well.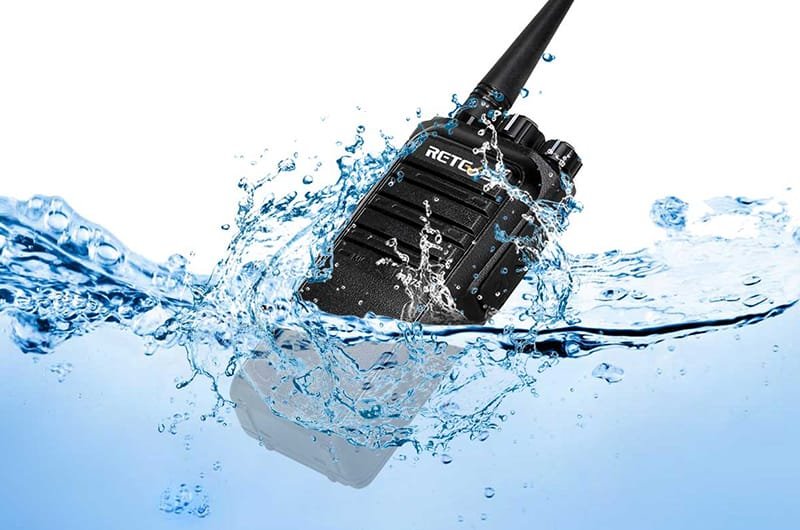 GMRS band For family-RB75
Retevis RB75 is the GMRS band radio, so it is the licensed. But don't worry,  you don' t need to get the exam like the ham radio license. Only need to apply for this license to FCC, and pay the fee. Then you will get the GMRS license. When you get it, you and your family member can own and operate the GMRS band radio.
1 FCC GMRS license, will help you and your family to use the GMRS band radio.
Where to order?
It is very easy to order from our website, click Buy It Now
Any questions, please leave comments below or contact us by email: parter@retevis.com