Can RB20 work with old Poc radio RT51? The answer is Yes.
When we released our new PoC radio RB20. Some customers emailed us about the same question. Please don't worry, the new POC Handheld Radio RB20 can work with your RT51. Here I will talk about these two models, and tell you what are difference and similar between RB20 and RT51.
RB20 and RT51, Something in common
1, They two models use the same management platform
Yes, RB20 and RT51 Poc Handheld Radios use the same management platform.
In the platform, you can click the menu Device management to edit or add device. You can add group or edit your group and add group members. When you add or edit device, you can choose the functions you like.
Also if you order new POC radios and want to add users in your management platform, you can click add order to get it.
2, They two models can work with each other
If you owned the model RT51 poc radio, when you edit your RB20 account ID into your management platform, then you two different models can work with each other.
3, RB20 and RT51 use the same GPS dispatch system
They two model use the same GPS dispatch system. That means you can track your RB20 POC radio, in the same time, you can also track your RT51 poc radio in the same system.
4, They are all the POC radio
Yes, they two models are all the handheld POC radio. Two models all use the Cellular network to work.
RB20 and RT51, something in difference
1, The appearance
The most obvious is appearance.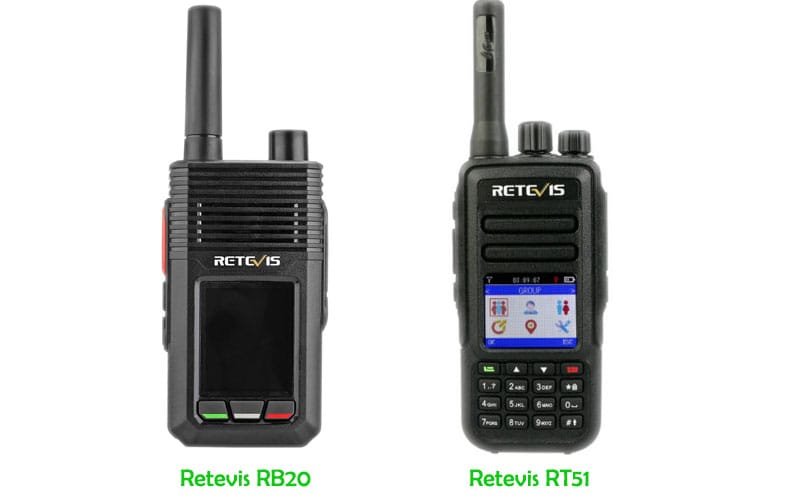 2, Different programming software
As we know, before using the poc radio, we need to program your radio to get the radio account ID and password. Then use this ID and password to add device in the management platform. They two models have different programming software. When you want to program two different models, please download the right software to program.
3, Different way to enter into write code mode.
Before programing your poc radio, you need to enter into the write code mode.
For RB20,You need to turn on your radio's USB SW. Press the menu button, enter into setting, choose About, to check the USB SW on or off. If it is off, press the sidekey to make sure it is on. Then plug the programming cable into your computer to program.
For RT51, hold down Side-Key 1 (the one above the PTT button) on your radio and power it up. The screen will show write code.
4, RB20 has two versions.
Retevis RB20 has the EU and US version. But RT51 only has the US version. So if you come from EU countires, and want to choose the POC radio, why not choose RB20?
Now we have taken the old POC radio RT51 off the shelves. So if you are looking for the poc radio, and work with your old radio RT51, please choose model RB20.  If you have any queries about two way radio or poc radio, do not hesitate to eamil us on: partner@retevis.com. or complete the form below.