Now we have a new digital two way radio RT29D, this is our first bluetooth digital two way radio. You can have a look.
If you have used our RT29 radios, you will be familiar with RT29D, it is an update on RT29, from analog to digital version. And also we add the bluetooth function and headset with it.
We all know digital radio will help us to have group call and all call, a good choice for business use, especially for  relatively large company with many different departments.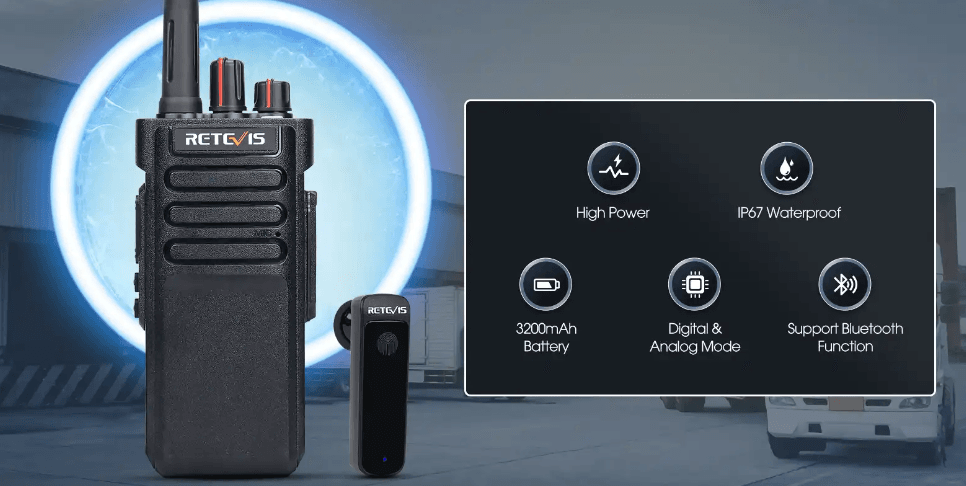 1, Bluetooth 
Our first bluetooth digital two way radios, offer you convenient communication with wireless headset .
2, Heavy duty and long range
This product retains the good quality and high power, so you will have a long range talking distance and durable quality.You will buy a good quality radio with cheaper price.
3,Digital radio
As more and more people choose digital radios, it is a good replacement for your analog radios.To have more funcions and more complicated call settings.
4,Dual time slot
It can use with repeaters easily.
5,Waterproof and dustproof
This feature make it can use outdoor or wet and dusty envirenments.
RT29D is a reliable Bluetooth digital two way radio, you can order it if you like.
Retevis welcome new resellers and OEM brand partners, to realize win-win cooperation, if you are interested in, please feel free to email to info@retevis.com
More to Read: