App programmed radio Retevis Bluetooth handheld radio RT78, the new model, it supports
Mobile phone APP program
the Bluetooth
This model RT78 is the App programming handheld radio, you can program this radio by your mobile phone's app, no need to connect to the computer to program.
Our Retevis RT78 with the Frequency Range: UHF 400-470MHz, output power 4W. IP67 waterproof and dustproof grade. is the best choice for emergency communication or outdoor.
Let's take a quick look on
APP programmed bluetooth supported radio RT78:
As the normal radio, it has the PTT button, Up and Down button, power on and volume button, Mic port as the below picture: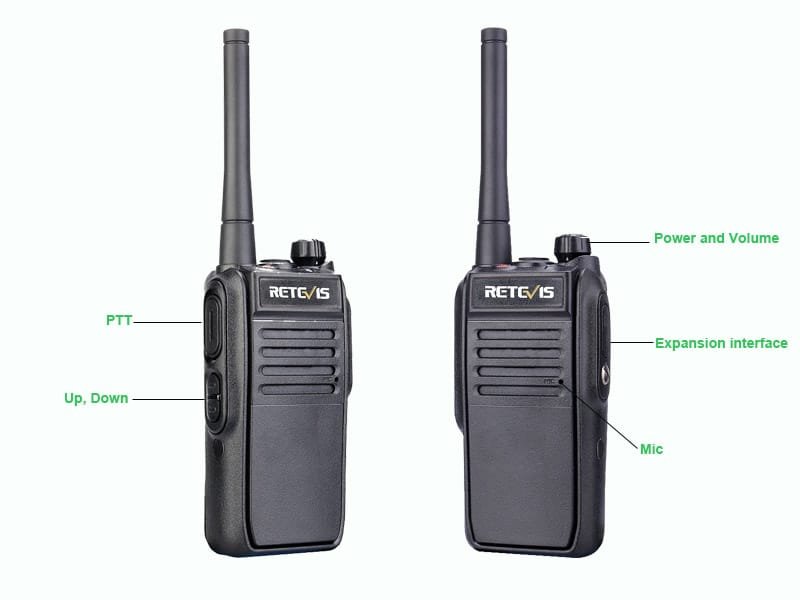 The top buttons of this App programmed handheld radio RT78:
For the top button with orange color, it is the multi-function composite button. there are some differents when
[Double-click the top button] When pairing an external device such as a mobile phone, a Bluetooth headset, a wireless PTT, or a wireless hand microphone, the "ding-dong"prompt tone enters the external pairing state and waits for pairing with an external device.
[Short press] Turn the radio on or off, and use the up and down buttons to adjust the radio. Press the Up button to search the radio by Increasing the frequency. Press the Down button to search the radio by decreasing frequency
[Long press] Turnon/offthe radio prohibit transmit function. When the radio and network intercom dual mode are used, you can choose to turn off the radio transmission function and use only the network intercom function.
GPS positioning antenna: this model is only GPS positioning by mobile phone, GPS antenna is not installed.
Before using this App programmed radio RT78, you need
1, Download the APP on your smartphone
2, Connect the radio with your smartphone by bluetooth.
3, Program your radio on your phone.
If any question about this radio, please leave message here or contact us by email: partner@retevis.com