Alarm Function For GMRS Long-range radio RT76P
Alarm Function will be an important feature for two way radios. Lots of users choose the radio will consider the Alarm funciton first. Especially when choose the best outdoor walkie talkies for their adventure outdoor. For remote area skiing or hiking, lots of adventurers will choose the GMRS band radio. GMRS is General Mobile Radio Service. The GMRS radios are more powerful then FRS Radios, so usually the GMRS radio will have the long range communication.
Retevis RT76P is the GMRS long-range two-way radios. It has the display, with the full keypad, and the power is less than 5w.  With lots of features like VOX, SCAN, FM radio, NOAA, Dual watch, and alarm function and etc.
Alarm function will help you to send alarm sound to your friends or team when you meet problems. But how to active the alarm funciton? You can read this blog to help you.
3 different kinds of Alarm funciton on RT76P
1, Local Alarm
This way is very easy to understand. When you set the alarm funciton, press the alarm button, your radio will sound the Alarm sound. Also this way is called On site for GMRS radios RT76P.
2, Send Sound.
Sometimes, we called remote alarm. It means when you active the alarm function, it will send the alarm sound to your friends radio, your friends radio will sound the alarm and he/she will know your meet the problem.
3, Send code.
Send the alarm sound while sending the Pre-set DTMF indentification code. If you are not familar to the DTMF function, you can ignore this alarm way.
How to set the Alarm funtion on RT76P
1, Let's check the RT76P's keypad and buttons.
From the below picture, we know the sidekey button( the button above PTT) is the alarm button.
2, Choose the alarm way by keypad or software.
Keypad: Press menu button, find the menu 31 Alarm mode. Then press Menu again to choose one of 3 ways(Send sound/On site/send code). Then when you want to send alarm function, long press the Alarm button.
Software: Connect your radio to the computer via programming cable, then open the software, Click edit, choose optional feature, find the alarm to tick, and choose the alarm way. Long pres the alarm button to active it. Like the below picture: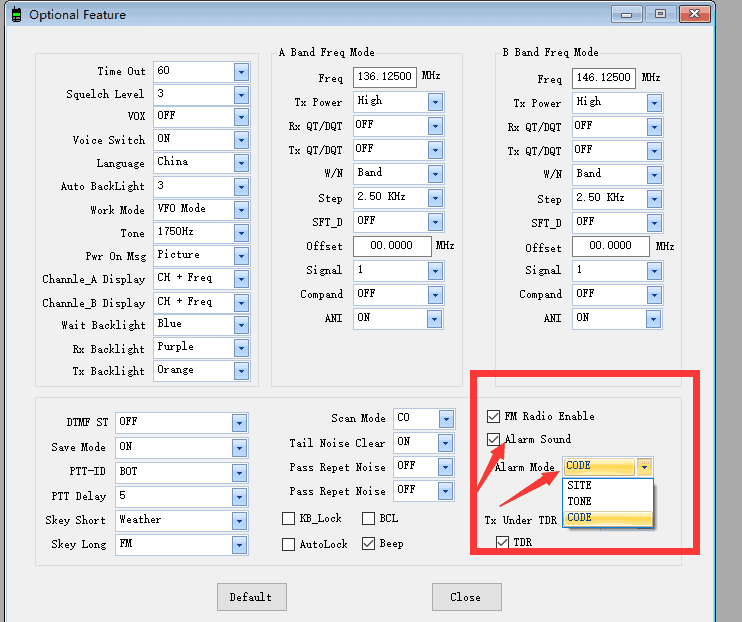 Any question about GMRS long range two way radio RT76P and its alarm function, please leave message or contact us by email: partner@retevis.com