This article will record Ailunce HD1 software and firmware change log, will be update when get new firmware.
HD1 CPS V1.65 and Firmware V1.40 issued on 18th,January,2018.
FW Change log:  1. Address the problem when frequency step is 12.5k cant change frequency to 439.8875 for example.
2. Address the problem when send private call on Time Slot 2, it always sent in time Slot 1.
CPS change log:   Address the problem in digital data section cant keep the channel contacts.
HD1 latest firmware version V1.37 issued on 9th, Jan, 2018.
Change Log:
1.Call log will show any call type, not only Private Call.
2.When connect repeater fail, it will show"Rprt Fail" not"Relay Fail".
3.Communicate end, it will delay 5s to show the contacts information. If someone dont want this delay, press exit will back to the screen.
4.The call log display the full screen.
5.Remove the top sign "DMR" or "FM" to the bottom, then the channel name will display 12 characters.
HD1 Software CPS V1.61 and Firmware V1.36 issued on 28th, Dec,2017
CPS V1.61.   Change Log: 1.Address the issue Export Address Book Contacts no data.
2.Add new function: import or export Channels information.
Firmware V1.3.6.     Change Log: Address the problem when sending a message from Motorola to HD1 unreadable.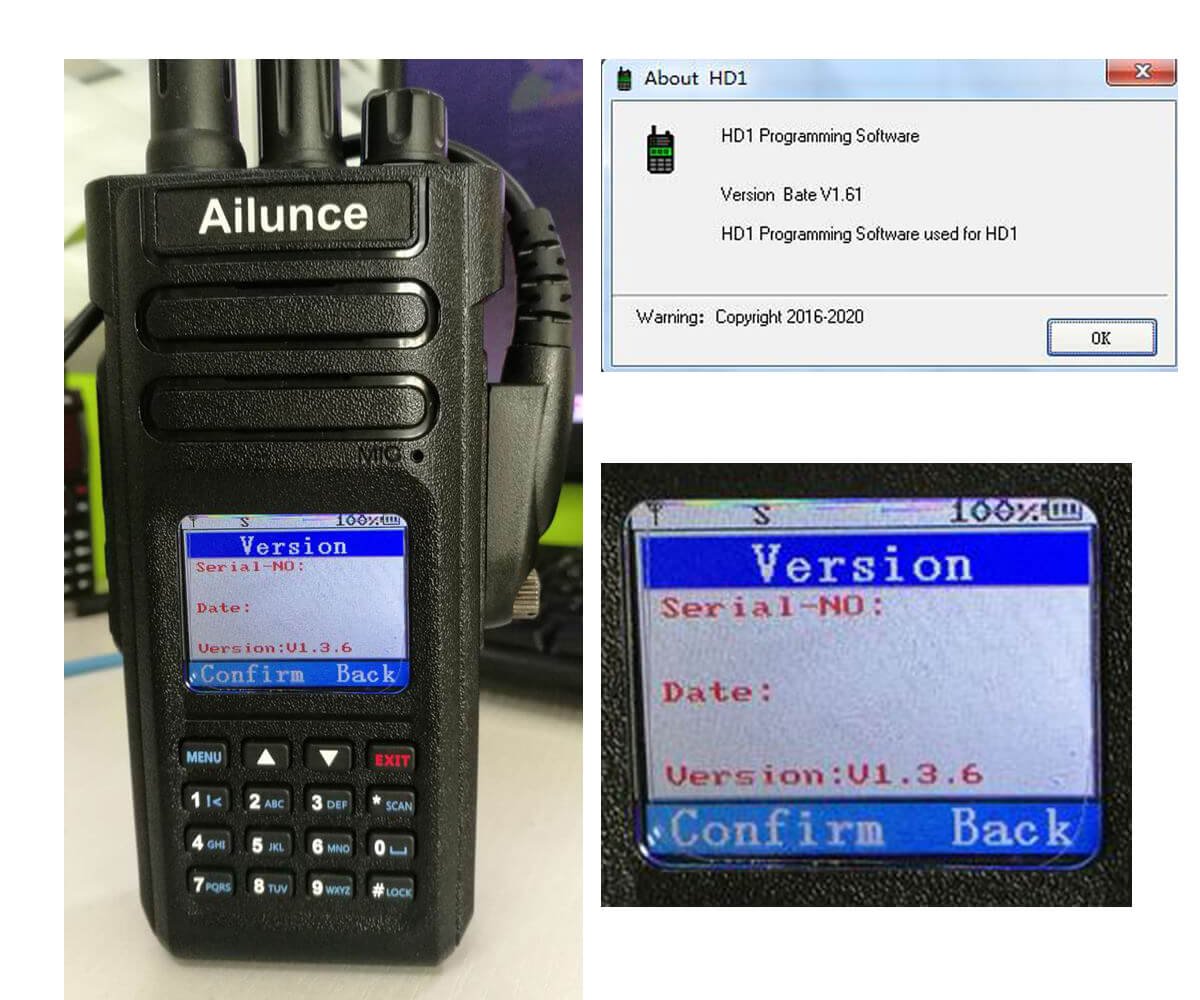 HD1 Software V1.60 issued on 19th,Dec,2017
Change boot page. The picture requirement: 160*128 pixel, 24-bit depth,.BMP format.
 Issue the problem sometimes can read data from the radio but can't write to the radio.
 For priority contacts, add two buttons"Add" and "Del". Not only add priority contacts via CPS but also add contacts on radio panel. Improve ID-Sort and Contacts Alias Sort.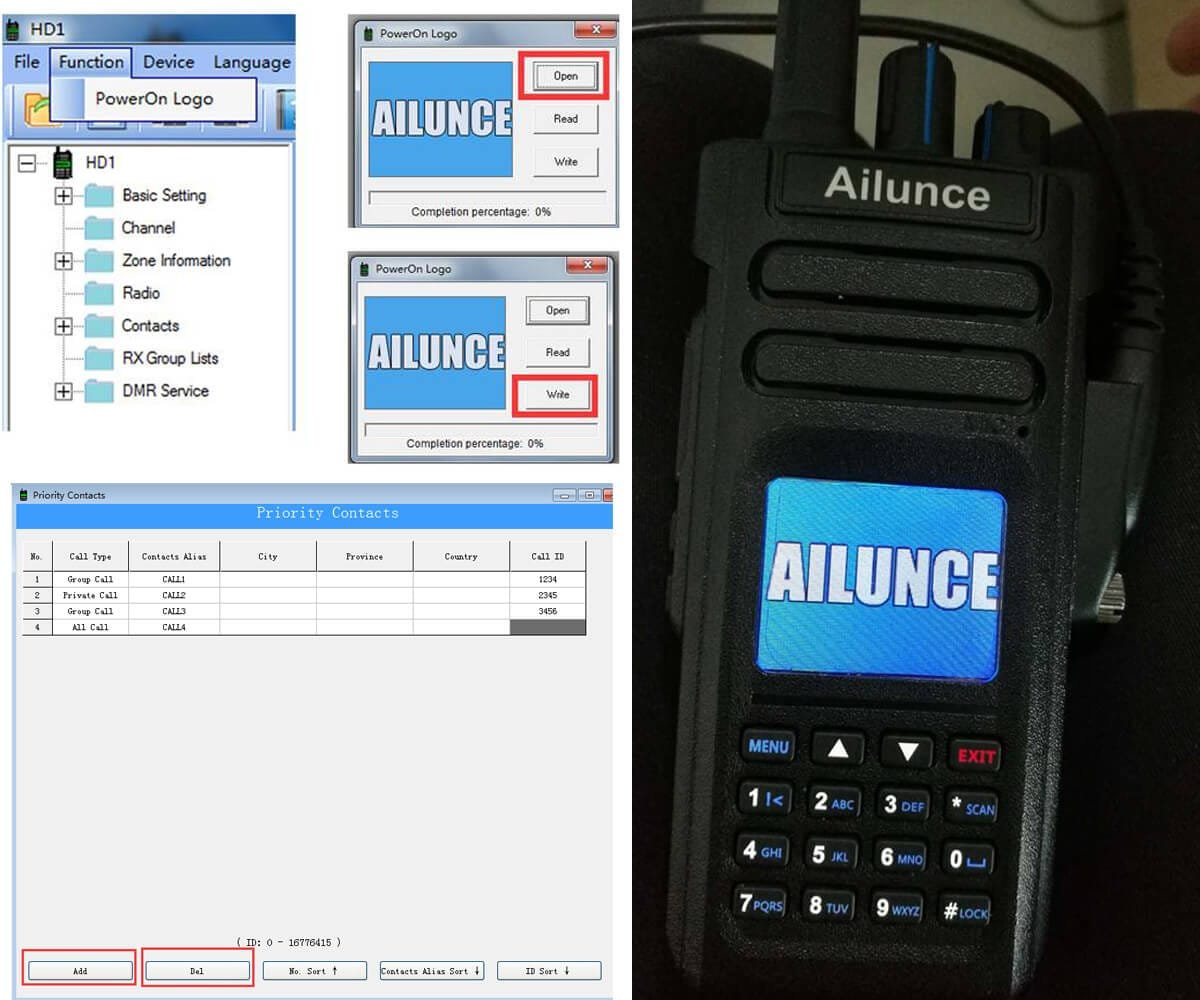 HD1 Firmware V1.34 issued on 16th,Dec,2017
HD1 firmware V1.3.4 improve the problem when transmit and receive sometimes sharp sound from the speaker.
HD1 Software V1.56 issued on 14th,Dec.2017
HD1 Software V1.56. Issue the problem when reading address book contacts from radio nothing appears.
HD1 Firmware V1.32 issued on 13th,Dec,2017
Address the V1.31 Firmware issue transmitting frequency error in vfo mode.
HD1 Latest Firmware version V1.31 and software V1.55 issued on 11th, Dec, 2017.
1. Issue misunderstanding expression.
Unified "Transceiver Inhibit Function" to Radio Kill
Unified " Wake Up Function" to " Radio Wakeup".
2. Add two backlight time: 60s and 120s.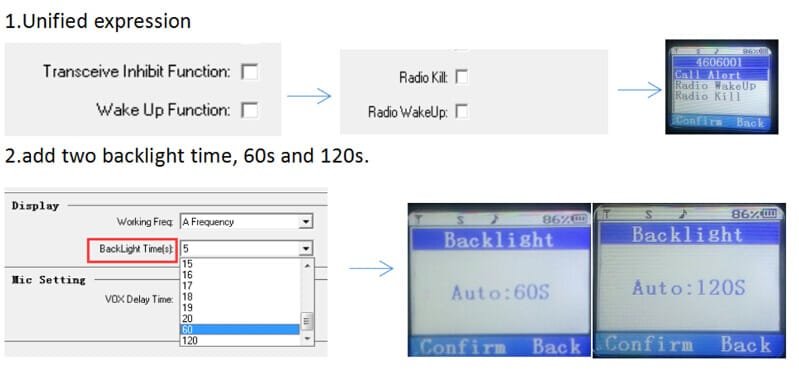 HD1 firmware V1.2.9 issued on 2th,Dec,2017
The problem with the audio at the beginning and the end of a broadcast has been fixed.
Software Version V1.67 :
1. Add Channel UP,DOWN,DELETE,INSERT,CLEAR.
2. SideKey Setting:Repeater/Talkaround will not display"Trunk on".
3. Can Sort zone selected member.
HD1 firmware V1.45 Issued on 19th, Mar.2018
Ailunce HD1 latest firmware Version V1.45 changelog:
1. The "missed call window" disappear when a call end.
2. Issue the Receive drops out the problem.
3. Improved the randomly frozen problem.