Ailunce HD1 is a dual band amateur radio developed for hams. We provide Life-time Continuous Firmware Upgrade.
Until 2019 November 12, the latest software version is V2.18 and firmware version is V1.64.
Got feedback from HD1 customer, said they cant choose digital DCS codes D246N, D503N. So in the latest firmware and software we added total 42 DCS codes as below:
D036I, D053I, D122I, D145I, D212I, D225I, D246I, D252I, D255I, D2661I, D274I, D325I, D332I, D356I, D446I, D452I, D455I, D454I, D462I, D523I, D526I, D036N, D053N, 
D122N, D145N, D145N, D212N, D225N, D246N, D252N, D255N, D266N, D274N,D325N, D332N, D356N, D446N, D452N, D454N, D455N, D462N, D523N, D526N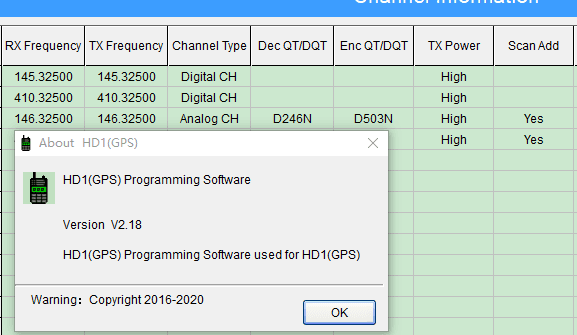 Firmware version V2.18 issue another 2 problems:
1. Issue the RX group list problem: Although TG9(for example)is in the RX group list, but also cant receive its signal.
2. Issue the problem that doesn't display the contact name when choosing Rx group members.
Where download the software and firmware?
https://www.retevis.com/resources-center
This blog was updated by Vivian Xu( BI6KSS), a young lady. Ailunce HD1 latest firmware v1.64 and software v2.18
If any question, please leave message here!