This article is about HD1 keys. Ailunce HD1 is an amateur radio, Dual Band DMR Radio,Analog and Digital Combined Radio.
Ailunce HD1 has a lot of highlights, like the FPP( front panel programmable) function. If you are outdoor or you want to program the radio but without PC, this FPP will help you!
Here I will tell you the meanings of keys for Ailunce HD1.
HD1-Side keys
HD1 has two side keys and one PTT, you can define the two side-keys by the software.  Please check these pictures: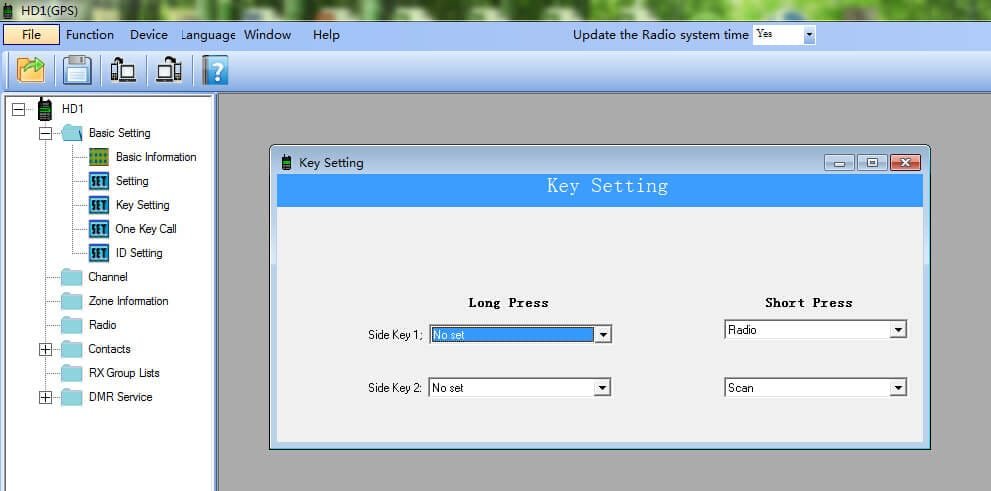 PTT:
1, Transmit
2, When you are in the menu list, press PTT, you will go back to homepage.
HD1

–

Keyboard Keys:

In the front keyboard, there are a lot of keys. Like Menu, Exit, scan and number keys.
Shortcut-keys:
1, Exit
Short press, it can be switched between VFO and Channel Mode.
In VFO mode, Long press it, it can be swiched between Digital and Analog mode in active Frequency.
2, Scan
Short press, you can choose the active channel.( The band in blue).
Long press, you will start scan function.
3,#Lock
Short press, it can be switched between dual stand-by and single stand-by.
Long press, the keyboard will be locked.
HD1

–

Rotary Knob:

HD1 has two knobs beside the antenna.
Middle Knob:
1, In the homepage, you can rotate it to Switch the channel.
2,In the Menu list, you can rotate it to find the setting you want.
Above are all the keys and knobs for Ailunce HD1. We also have the videos about these keys, please check: https://www.youtube.com/watch?v=Elxh16C486k
If any question, please feel free to leave a message here!