Advantages of RT97 Repeater
RT97 is  a Portable Repeater, it is very small and compact, when you get it , you can see it is a silver grey metal box, solid and dust-proof, it looks very textured.
Today we are going to recognize RT97 Reteater.
1.Light And Small:
RT97 is very light and small. Conventional repeater size is about 620*410*190mm, the weight is about 14kg; But the sizes of RT97 is 310*283*170mm, the weight is about 1.66kg.
The conventional repeater is three time the size of RT97, and 8 time the weight of RT97.
So it is very portable and easy to carry. It can support DC12-24V+AC110~220v voltage.
You can put it in the car, connect the car cigarette lighter to extended communication distance. You can also connect an external power supply, put it in your bag, take it wherever you want to go.
2.Easy to use:
RT97 is the simplest repeater, it is very easy to set up and adjust. It have no DTMF, Remote skill/Remote stun/Remote active function, it also have no hang up and scan, Sound emission and remote control functions. Just because it doesn't have that much complexity, it is easier to operate and use, you just need to program the frequencies, or you can fixed it's RX/TX frequencies, just to program your walkie talkie's frequencies.
3.Application:
The maximum transmission power of RT97 is only 10w, the conventional repeater output can reach 50w. So RT97 is destined to cover a limited area. You can use it indoor, Between Floors, smaller projects, small and medium companies, Small and medium concerts, underground parking lots, storeys. It also can be used for the fad zones of hotels, KTV and other entertainment venues and so on. You do not need to apply frequencies and license. And it is low price, easy-to-understand, Very suitable for small and medium sized places as a communication solution.
4.Customizable:
You can tell us what is the TX and RX frequencies you need, we can fixed them in repeater as you need, between UHF (400-470MHZ).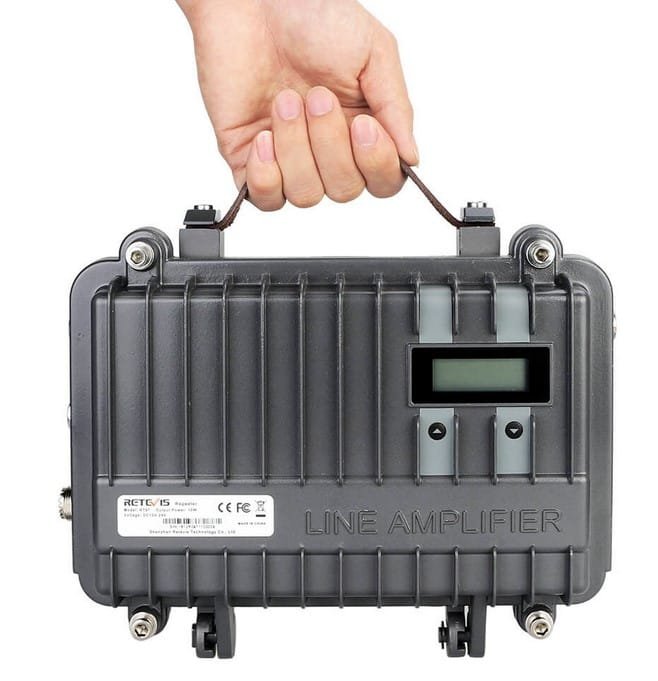 5.LCD display:
LCD display shows the transmit and receive frequencies, it will help you know the TX and RX frequencies and the CTCSS/DCS code visually. You can also use the "up" and "down" menu to change the frequencies.