Retevis RT47, the license-free Family Radio Service or PMR446 band radio, with 16 channels, IP67 waterproof and dustproof two way radios. But there still have people don't know more about this model.
Here I will use 4 common questions to help you to know more about Retevis RT47.
Q1: How far can RT47 communicate with?
Answer: Most consumer radios advertise 50 Kms range but the truth is that most basic consumer radios will not provide anything near this distance. Best long-range walkie-talkies provide you effective and reliable communication. The surroundings should be ideal for communication through radios as they prefer a direct line of sight communication. Obstructions such as buildings, walls, mountains or large trees can block signals, decreasing range capabilities.
The Retevis RT47 radio can get 0.5-2miles.
Q2: How do i make Retevis RT47 talk with other radios?
Answer:
1) The radio has been programmed to the same frequency and CTCSS DCS before shipment; RT47 can work together when out of the box.
2)If you want to make RT47 talk with other radio, you need to program the radios you have.Down load the Retevis RT47 software. Then set your radios CTCSS DCS and frequency the same as Retevis RT47's. Any problem you could contact us.
Q3: Is it the real waterproof ?
Answer:
Definitely. The IP67 RT47 waterproof radio means the radio can be dropped into a body of water up to a meter deep for half an hour. The radio help you achieve instant communications anywhere without rain or wet condition.
Q4: Do I need a license?
No. The FCC certificated FRS radio RT47 is a license free walkie talkies help you reduce your costs by saving on frequency and radio licensing fees and use the radio legally.
1)No government permission
2)No annual requiring fee to government
3)Freely use anywhere in the country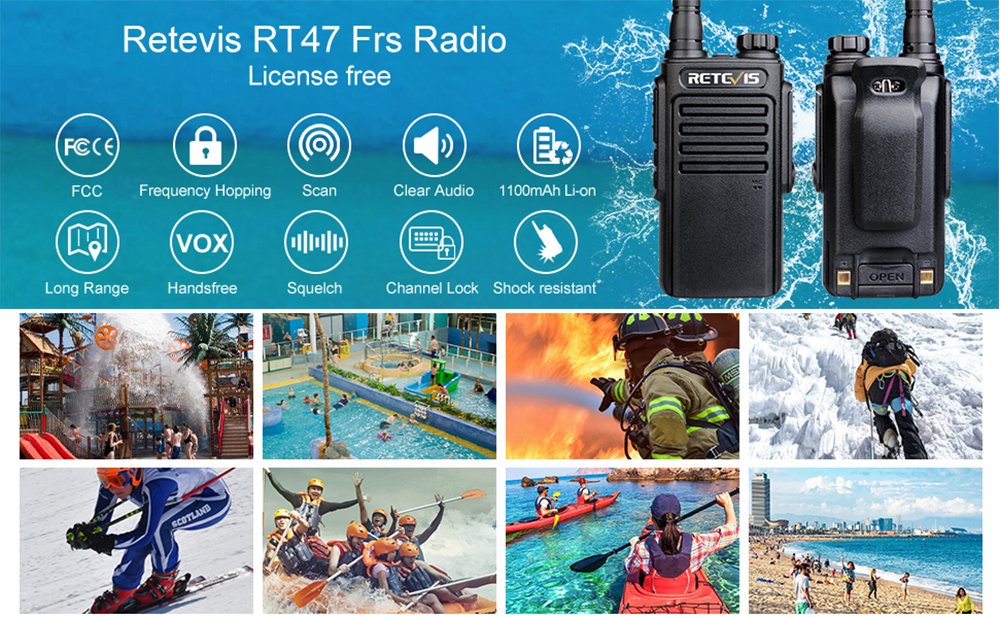 If any question, please feel free to leave message here or contact us by email: partner@Retevis.com