Best two way radios for hunting
As a hunter,Choose a good waterproof radio is very important, there are some reasons why you need to choose radio.
1, Because radios will help you getting in touch with your hunting buddies, friends and familly while you are out in the field.
2, If you have the two-way radios, you can team up to track prey, receive important information, and stay safe in the wild.
3, In the wild during hunting, some places will lost the signal of mobile phone, but walkie talkies will solve this problem: signal blind spots.
How to choose a good radio for hunting?
When you choose the radios, you need to consider these features like range, power, durable design, waterproof and dustproof, battery power and channels and CTCSS/DCS code for security call.
Range:
As a hunter, you require a two-way radio that has a long range. In fact the longer the range the better. The most important factor that affecting range is the power and antenna, because usually it can be difficult to get a good reception in dense woods, so choose the long-range radios is very important.
Durable design:
Hunting environment usually will be in woods or wild. So you need to choose a durable design 2-way radio.
Water and Dust proof
While hunting, your radio is probably going to be exposed to dust, dirt, mud, and rain, or you do lots of huntings in marshes or areas with lakes or rivers. So don't forget to choose the waterproof and dustproof radios, if possible, please choose the IP67 waterproof and dustproof radios.
Battery power
For outdoor huntings, you need to pay more attentions on its power, you need to choose the Large Capacity battery. If you have the hunting team, a multi-way charger will be more convenient
Channels with CTCSS/DCS codes
CTCSS/DCS codes are the privacy codes, it will help you to filter out unnecessary transmissions. More codes, more possible combinations.
Channels number
If you have hunting team, you should choose a radio that has more than 16 channels radio, for digital mode, you can call one of your team member or call all team.
Recommend: Best two way radios for hunting
Retevis RT29-The long-range UHF/VHF waterproof and dustproof long standby 16channels two-way radio.

Retevis RT50-The long-range UHF waterproof and dustproof Digital mode and Analog mode 198 channles radio.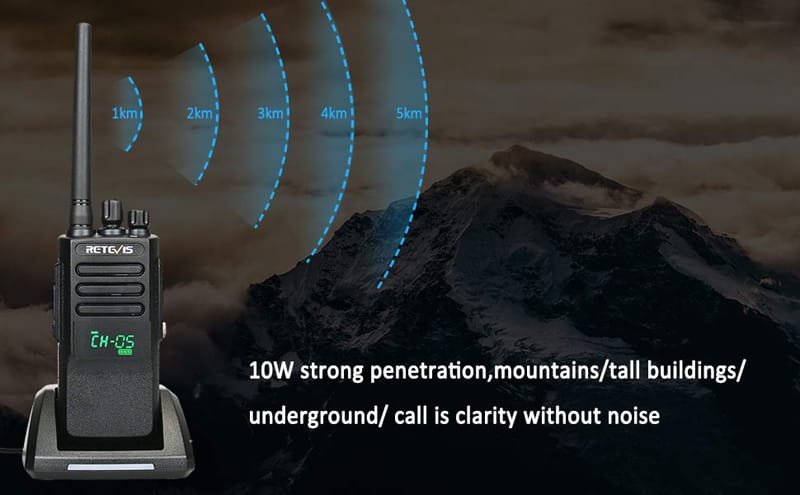 Retevis RT47-The Light weight and easy to carry License-free waterproof and dustproof walkie talkie.
Retevis also have many models like the amteur radios, business radios, will meet your different requires and different scenes to use. If you want to know more about retevis or has problem on this blog, please leave message here or contact us by:
Facebook: www.facebook.com/retevis
Instagram: www.instagram.com/retevis_com
Email: partner@retevis.com